How to Remove A Bankruptcy From Your Credit Report
Bankruptcy is a legal procedure that allows individuals to discharge debts when they can no longer afford to pay them. For individuals there are two options when filing for Bankruptcy – Chapter 7 Bankruptcy which wipes out unsecured debts, and Chapter 13 Bankruptcy where you pay back all or a portion of the debt over time. The primary objective of bankruptcy is to provide those who are deep in debt with a fresh start, and a secondary function of paying off creditors as much as possible without severely burdening the debtor any further.
For many individuals, filing bankruptcy represents the most appropriate solution to a difficult financial predicament. Indeed, the most recent U.S. Courts data indicates that almost 772,000 individuals filed for bankruptcy during the twelve months ending June 30, 2017. This implies that an average of over 2,000 people file for bankruptcy in the United States every day! Source
How Long Does Bankruptcy Stay on Your Credit Report?
Bankruptcy can remain on your credit report for up to a decade and should not be entered into lightly without a thorough understanding of its long-term consequences. Importantly, a Chapter 7 bankruptcy will remain on a credit report for ten years from the filing date, and a Chapter 13 bankruptcy will remain on a credit report for seven years from the filing date.
It is important to know all bankruptcy options will have a negative impact on your credit score. Once the bankruptcy is complete in time you can apply for and begin to rebuild your credit score.
Is It Possible to Remove Bankruptcy From Your Credit Report?
Filing for either Chapter 7 or Chapter 13 bankruptcy will impede the process of obtaining any significant credit lines at favorable terms in the years immediately following. Meanwhile, potential landlords and employers won't likely be pleased when they see a bankruptcy after pulling your credit report. But, there is a way out. It is possible to remove a bankruptcy from your credit report, but it isn't always a walk in the park.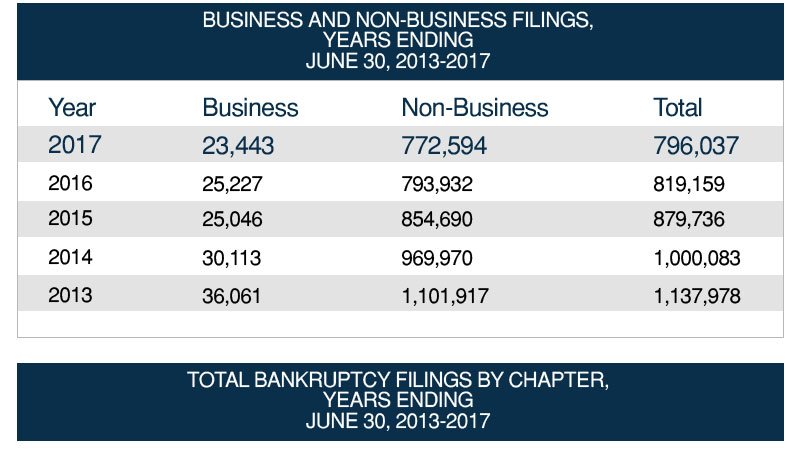 Examine Your Credit Reports Closely for Mistakes on the Bankruptcy Entry
Visit annualcreditreport.com to request free copies of your credit reports from the three national credit reporting bureaus (Experian, Equifax and TransUnion). Scrutinize the bankruptcy entry on each of your credit reports very closely, checking for any type of inaccuracies – including clerical mistakes related to your social security number, address, or any mistakes related to your name and identity.
Consider any inaccuracy that you find as an opportunity to dispute the bankruptcy entry with the appropriate credit bureau. Though unlikely, especially if your bankruptcy is recent, there is a chance that the credit bureau will be unable to verify the bankruptcy and remove it from your credit report. Case closed, in the best of circumstances. But what should you do if the credit bureau does verify your bankruptcy?
Send Dispute Letters to the Credit Bureaus
If your bankruptcy is listed on all three of your credit reports, you will need to write separate dispute letters to each of the three major credit bureaus. In a brief, carefully worded letter, ask the credit bureau how it actually went about the process of verifying your bankruptcy. Under the guidelines of the Fair Credit Reporting Act, any investigation related to a dispute that you file must be concluded within 30 days. The credit bureau will most likely respond with something to the effect that they "verified the bankruptcy with the court." However, this may or may not be true. What if it isn't?
Contact the Courts About How They Verified the Bankruptcy
Your next move is to contact the courts directly that the credit bureaus specifically named in their responses to your dispute letters. Ask the courts how they went about the process of verifying your Chapter 13 or Chapter 7 bankruptcy. It very well may be that the courts respond by stating they did not verify anything.
If you're fortunate enough to get this response, be sure to get this statement in writing. Once you have received such a statement in writing, make copies and mail them to the credit bureaus. Include a carefully worded letter that demands the immediate removal of the bankruptcy from your credit report, given that the credit bureau knowingly provided false information in their response to your initial dispute letter and are in violation of the Fair Credit Reporting Act.
You May Need Outside Help
The above describes the best-case scenario, and though it can be accomplished on one's own, successful removal of a bankruptcy from a credit report can prove to be a somewhat long and difficult process with no guarantee of success. If you are in the situation of wanting to remove a bankruptcy from your credit report, or are considering filing bankruptcy but wish to explore possible alternatives such as debt management plans, debt consolidation, or debt settlement, contact us here at United Settlement (888) 574-5454 to discuss the specifics of your particular situation or apply for debt relief online.
Are you in debt? we can help
Based on 376 reviews
Overall 4.4 out of 5 stars
That when it seems like nobody can help United will.
This was a great experience for me. I am just starting but Madelene Gallon made me feel like we were friends for years. She tried to make me feel that she would help me and make sure I got the best deal from United. I hope this...
Kind and caring
Had been searching for a while for a company I could trust to get me out of crippling debt. Really didn't think it was possible. Spoke to Ben at United Debt and he assured me that not only was it possible, but it would be fairly...
Kind and caring
Had been searching for a while for a company I could trust to get me out of crippling debt. Really didn't think it was possible. Spoke to Ben at United Debt and he assured me that not only was it possible, but it would be fairly...
Quick, easy assistance!
I've been working with Ben at United Debt to help me organize and get out of debt for once - I've been dealing with debt for ages and Ben showed me some simple ways to begin dealing with things to keep me from bankruptcy or worse....
I need help
I really appreciate
Great!
Renika went above and beyond today to help me. She is wonderful to work with! Thank you again Renika for all of your help today! Happy Holidays to you!
Paying back
They where great listeners
Customer service is truly helpful
Renika was so helpful. My account was paid off but I kept receiving notifications. She cleared up the situation.
Great Customer Service
Renika did a wonderful job handling my questions and transactions. She is very patient on the phone and took care of my needs accordingly.
Very helpful
Renika did a great job in answering all of my questions in a timely manner. She was polite and friendly. Keep her on the payroll.
What's Important to me is United Settlement Costumer service !
United Settlement Costumer service is Amazing Everyone is Professional . I am so happy choosing them with my card Debt. thank you all for helping me out .
That this company has integrity!
A responsive company that keeps it clients up to date and fully informed. I like the fact that I can send them a text and be guaranteed an answer within 24 hrs.
Professional and focused on facts and truth not hype. Excellent. We want to know facts.
Great work very professional and great updates. Communication is excellent.
trust them
Excellent. Also each time i call there they treat me with respect even though they are probably thinking jerk . You sure have made mess of your life. but they have been taught to smile smile smile. this agency is just awesome....
Thanks for all your help and negotiations.
Thanks for the update! I have faith in you guys and will continue my payments. Thanks for all your help and negotiations.
That A Settlement Was Entered.
I Absolutely Love You All At United Settlements. You All Have Saved My Credit Solutions. I Would Refer Everyone To You Services.
The results of the settlement attempts.
So far, I have found United Settlement more than satisfactory. Very conscientious and very efficient in providing a service in debt settlement. Thank you and all the members of your team who are assisting in bringing me new life. ...
Tough Financial Hard Times During Covid-19
I signed up with United Debt Settlement because of large credit card debts, which had taken a financial toll on my credit. UDS has an outstanding reputation assisting clients like me achieve financial recovery and success. During...
No hassle service
Quick fast and no hassle