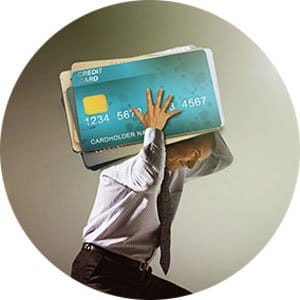 Solving Your Credit Card Debt Problem
Many people struggle with large credit card debt balances and are searching for a way out of their difficult financial situation. Though the circumstances that led the individual to a high debt burden vary from person to person, the common thread among all of them is a strong desire to become debt-free.
The two best approaches to paying off credit card debt are to either accomplish it independently, or, if lacking the full ability to do so, to utilize a consumer credit counselor service.
Solving Your Debt Problem Requires Effort
Paying back significant financial obligations may involve securing a second (part-time) job to generate the extra funds necessary to increase payments on higher-interest rate credit cards. It may be a bitter pill to swallow, but if you're serious about getting out of debt, you'll have to get serious about it.
Regardless of whether you work a second job, you'll need to get organized from the outset. List your consumer credit card accounts by balance, interest rate, typical minimum monthly payment amount and payment date.
Notice which account charges the highest interest rate and focus on paying this account off first. Furthermore, call all of your credit card companies and ask them to lower their interest rates.
Particularly with those accounts in which you have demonstrated a strong payment history or those that you have been with for many years, you may be pleasantly surprised by the outcome. The mere act of asking can save you hundreds or even thousands of dollars.
Apart from the account you have chosen to reduce more aggressively, continue to make minimum payments on all of your other accounts. Get creative and implement methods to reduce expenses while earning extra money.
It goes without saying that this really isn't the time to consider purchasing a new set of golf clubs.
Aside from possibly working a second job, consider the following credit card debt solutions:
Selling extra items that you don't really use through eBay, OfferUp, LetGo, Craigslist, social media (Facebook) and other avenues.
Remain strict about managing your cash flow and pay down the credit cards with the highest interest rate. Once your initial target account is paid off, repeat the process with the next highest interest rate card. Over time, your credit card debt will shrink.
Ideally, you will have visibility on clearing yourself of your credit card debt burden within five years or less. However, if you think this might prove unlikely, you should consider contacting a consumer credit counseling company that can work with your credit card companies to lower your interest rates while allowing you to make one consolidated payment each month.
Get Credit Counseling If You Need It
Credit counseling services help reduce debt levels by bundling balances together and negotiating lower interest rates with individual creditors. Instead of sending out dozens of small payments each month, you'll be responsible for a single larger payment to your credit counselor.
These payments often include a monthly fee of $50 or less. A qualified credit counseling service can help you restructure your debt without significantly harming your credit score.
Adhering to a debt management plan can lead you out of credit card debt on your own, without negotiations or settlements. Working with a third-party credit counseling service carries other benefits, as creditors will no longer contact you directly regarding your debts since your counselor can act as power of attorney over your debt.
Enrolling with a counseling service also demonstrates to creditors that you are proactively working on paying down your debt, and creditors will often soften their stance when they see evidence that you are working hard to pay off outstanding balances.
Do You Qualify For Debt Relief?
Get Started By Selecting Your
Debt Amount
Maintain a Positive Attitude
Regardless of which road you take – either paying your credit card debt off independently or through the aid of a credit counselor – it is important to maintain a positive attitude throughout the process. Each day, each dollar of debt that you pay off is bringing you one step closer toward the debt-free lifestyle and peace of mind that you seek.
Remind yourself that you're only human, that we all make mistakes, and that you are headed in the right direction as you travel on your personal journey toward financial recovery and freedom.
Solving your Credit Card Debt Problem
Related to: Solving credit card problems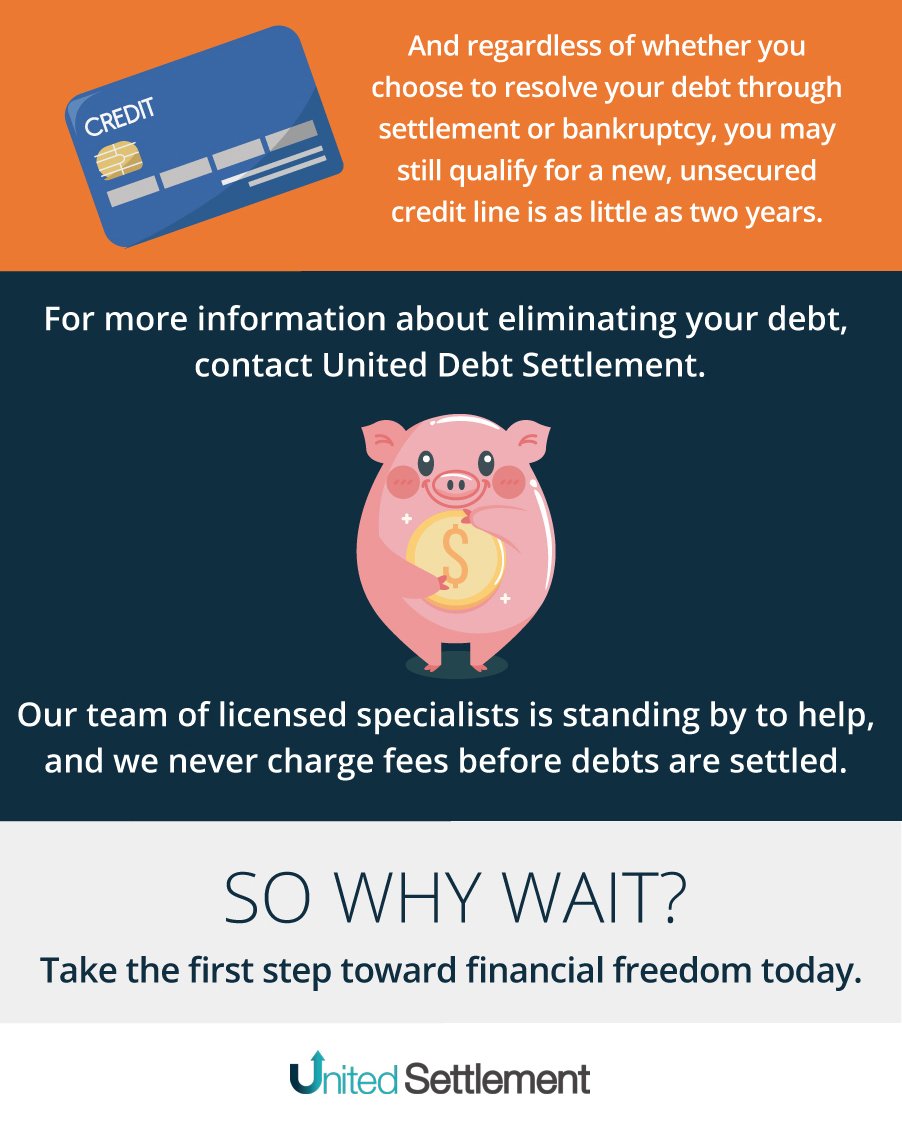 Solving Credit Card Debt FAQ
How many credit cards should I have?
The average number of credit cards held by American consumers is slightly higher than three, however for those individuals with FICO credit scores above 750, it is not uncommon for the number to go as high as ten. Opening additional credit card accounts and maintaining them responsibly can lead to multiple benefits. These benefits include greater purchasing flexibility, strengthening a credit score and profile, accruing various rewards through loyalty programs, enjoying separate accounts for personal and business expenses, and simply having an extra card available in case of emergency. These all make sense, if you are a disciplined cardholder who already manages your existing accounts responsibly. Therefore, for some people, the answer to the question of "How many credit cards should I have?" leads to the resounding answer of – as few as possible! This unfortunately applies to those at the other end of the spectrum who simply aren't responsible enough to stay out of trouble with credit cards – individuals who live beyond their means and accumulate onerous levels of high-interest rate debt that eventually causes problems in their lives.
How to quickly pay off credit card debt?
One popular approach to quickly pay off credit card debt is the Avalanche Method, which involves organizing your various credit cards by interest rate, ranking them from highest to lowest. Regardless of the respective balances on the cards, the credit card with the highest interest rate is assigned the highest priority in the repayment process. After making certain to make the minimum monthly payment on each other card, determine the greatest amount that you can pay on the highest interest rate card, and make that payment. Do the same thing the following month, and in each successive month, until the highest priority card is fully paid off. Repeat the process with the second-highest rated card, continuing to make minimum monthly payments on all remaining cards. Each time a card is fully paid off, there will be more money to pay off the fewer, remaining cards. Over time, momentum gets generated, as the avalanche of debt repayment begins to take greater hold. The avalanche method results in paying less interest expense over time while helping you get out from under a mountain of credit card debt more quickly.
Does debt consolidation close credit cards?
Debt consolidation does not close out credit card accounts, but rather, a debt consolidation loan is designed to provide the funds necessary to pay off existing balances on higher-interest rate credit card debt. Paying off the balances saves money on interest expense while simplifying the repayment process, as following a debt consolidation loan, only one streamlined monthly payment becomes required. While existing balances of previous credit card accounts are paid off, those accounts remain open, preserving your total available credit and credit utilization ratio, as well as the average age of your existing accounts, both of which help protect your credit score from damage.
How to refinance credit card debt?
If you carry multiple credit card debt balances spread out among a variety of different creditors, pursuing a credit card consolidation loan can make a lot of sense. Simplifying the number of payments down from a number of different creditors to just one single creditor makes the monthly process of paying credit card bills easier. In addition, you're also likely to save money in the form of lower interest expense per month, and this can allow you to pay off more of the principal owed, thereby leading you out of debt in less time. Introductory promotional rate credit cards offering balance transfers represent one way to consolidate credit card debt, though these promotional rates often expire within 12-18 months and APRs go much higher after the promotional rate expires. For longer repayment duration of a few years or more, fixed-rate credit card consolidation loans (also commonly referred to as personal installment loans) provide a viable solution.
How is credit card debt split in divorce?
Following a divorce, each spouse remains responsible for any debt remaining in his or her name. When spouses held a joint credit card, each spouse's name on the card implies that each spouse is responsible for the debt. This follows "common law" and will hold in 41 of the 50 United States. However, the remaining nine (Arizona, California, Idaho, Louisiana, Nevada, New Mexico, Texas, Washington and Wisconsin) rely on "community law," which implies that any credit card debt that accrued during the marriage – including credit card debt held in only one spouse's name – is split between the two spouses after a divorce.