Things to Know Before Filing For Bankruptcy
Bankruptcy is a legal procedure that allows individuals, businesses, and other organizations to discharge debts when they can no longer afford to pay them. The primary objective of bankruptcy is to provide those deep in debt with a fresh start, with the secondary function of paying off creditors as much as possible without severely burdening the debtor any further. Indeed, for many individuals and businesses, filing bankruptcy represents the most appropriate solution to a difficult financial predicament. However, if you are considering the possibility of filing bankruptcy, there are many things to know ahead of time.
Bankruptcy Statistics
For starters, you're not alone. In fact, the most recent U.S. Courts data for the twelve months ending June 30, 2017 shows almost 800,000 bankruptcy filings, with over 772,000 of them representing individuals filing for bankruptcy. This implies an average of over 2,000 people filing for bankruptcy in the United States every day! These numbers, robust as they are, have actually been on the decline since 2013, when the total number of bankruptcy filings exceeded 1.1 million. Source
Chapter 7 and Chapter 13 - Two Primary Types of Consumer Bankruptcy
Chapter 7 Bankruptcy is typically filed by individual debtors with relatively low income levels. Chapter 7 bankruptcy involves paying off unsecured creditors through a liquidation of the debtor's assets that are non-exempt by either state or federal law. Non-exempt assets include cash, funds held in bank accounts, funds held in the stock market, jewelry, collectibles, and any second homes or cars. These types of non-exempt assets are subject to liquidation under a Chapter 7 proceeding, with the funds raised utilized to pay off creditors. The number of Chapter 7 filings in the United States exceeded 489,000 for the twelve months ending June 30, 2017.
Chapter 13 Bankruptcy is typically filed by individual debtors who possess an income higher than the median level of the state in which they reside and is an option for people whose income may be too high to file for Chapter 7 bankruptcy. Chapter 13 bankruptcy involves designing a three- to five-year repayment plan that necessitates paying off some creditors in order to have other debts forgiven. When the repayment plan is completed, remaining debts can be discharged. The number of Chapter 13 filings in the United States was just shy of 300,000 for the twelve months ending June 30,2017.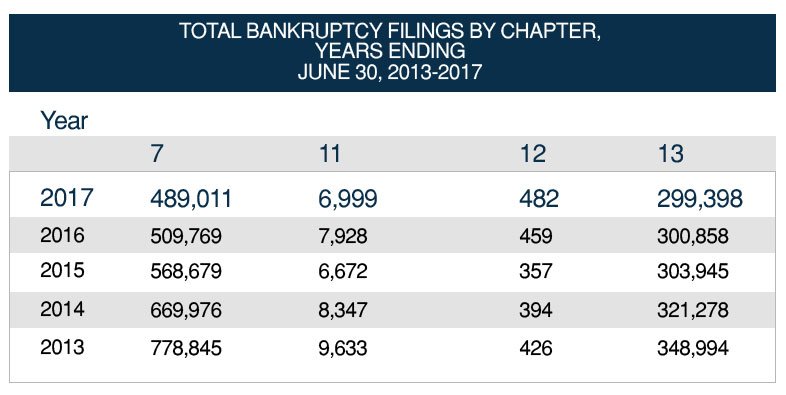 Chapter 11 Bankruptcy
Chapter 11 Bankruptcy, most often utilized by businesses, (though some individuals use it when their debts exceed the limits granted in Chapter 13), is considered a "reorganization" bankruptcy proceeding, as it provides businesses the opportunity to continue operating while restructuring their debts.
Businesses ranging in size and scope from large multinational corporations to relatively small partnerships utilize Chapter 11 to pay off debts over time without having to sell assets or cease operations. By the numbers, Chapter 11 Bankruptcy is far less common, as there were fewer than 7,000 Chapter 11 filings in the United States for the twelve months ending June 30,2017.
Do I Need an Attorney to File Bankruptcy?
Though consulting an attorney is not required, it is generally advisable. A clear understanding of which federal and state laws apply to your situation can lead to the best possible outcome as to which debts eventually get discharged.
Judges and employees of the court are not permitted to dispense legal advice, and there are important differences between filing bankruptcy under Chapter 7 and Chapter 13. There will be many forms to complete, and if you lack a full understanding of the rules and procedures associated with your particular case, the outcome may not go as well as it otherwise could with an experienced attorney by your side.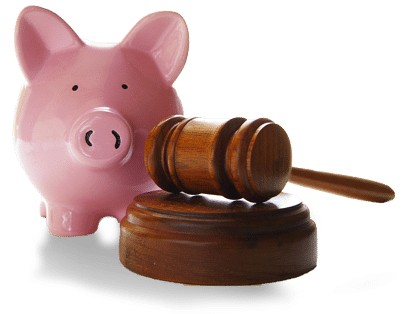 Attorney Fees, Court Costs, and Paper Trails
Bankruptcy attorney fees are a bit of a Catch-22 – and they must be paid upfront – in other words, they can't be included as debts that you seek relief from in a bankruptcy filing. There are also court filing fees and administrative fees. Depending upon which state an individual resides, total costs associated with filing Chapter 7 Bankruptcy will likely exceed $2,000, while filing for Chapter 13 Bankruptcy will likely cost more than $3,000.
There are other "costs" as well, as you may be required to miss work to meet with attorneys or attend court proceedings. If you can't afford an attorney, it can make sense to search for options for free (pro bono) bankruptcy legal services. Additionally, bankruptcy filings are a matter of public record, so your financial information will become vulnerable to anyone wishing to dig into your financial history. You should expect to lose a measure of privacy when filing for bankruptcy.
Get a Clear Financial Picture
Prior to filing for bankruptcy, make a comprehensive list of all debts, assets, income and expenses. This helps everyone involved in a bankruptcy filing to develop a clear understanding of the financial landscape. Additionally, within 180 days prior to any filing, bankruptcy courts require petitioners to undergo credit counseling from a Federally approved counseling agency. This typically takes fewer than two hours over the telephone or online, and is done to ensure that all possible alternatives to bankruptcy – such as debt management plans, debt consolidation, or debt settlement – have been sufficiently explored.
When filing bankruptcy, the individual provides specifics as to his average income over the previous six months. If this income is below the median income for his state, then he can file under Chapter 7 bankruptcy protection. However, If this income is above the median, then the filer must fill out a form detailing monthly income and expenses to determine whether he has the means to pay off some of the debt within three to five years. If the means test indicates that the debtor can do so, then he files under Chapter 13 bankruptcy protection.
Bankruptcy Won't Eliminate All Debts
It is important to know that obligations including but not limited to Federal student loans, taxes, alimony and child support, as well as debts that arise following the bankruptcy filing and any debts resulting from driving under the influence of alcohol are not eliminated through bankruptcy. Additionally, bankruptcy may not relieve any co-signers from financial responsibility on all or part of any loans that were agreed to be paid off in the event that the debtor could not.
There Are Consequences to Bankruptcy
Bankruptcy should not be entered into lightly without an understanding of the long-term consequences. Importantly, a Chapter 7 bankruptcy will remain on a credit report for ten years from the filing date, and a Chapter 13 bankruptcy will remain on a credit report for seven years from the filing date. Either stain will impede the process of obtaining new lines of credit following bankruptcy, while potential future employers and landlords can frown upon this aspect of a financial history. You will also likely need to acknowledge a bankruptcy filing on many medical and government forms.
Of course, bankruptcy will damage a credit profile, often lowering a FICO credit score toward the low 500s – though those considering bankruptcy are likely to already have weak credit scores. However, with careful planning and responsible financial behavior, particularly in the first two years following a bankruptcy discharge, it is possible to rebuild a FICO credit score to healthier levels. Nonetheless, before deciding whether to file bankruptcy and incur long-term damage to your credit profile, be certain to investigate other alternatives such as debt management plans, debt consolidation and debt settlement.
Are you in debt? we can help
Annette Huggins
That when it seems like nobody can help United will.
This was a great experience for me. I am just starting but Madelene Gallon made me feel like we were friends for years. She tried to make me feel that she would help me and make sure I got the best deal...
Kiirstin
Kind and caring
Had been searching for a while for a company I could trust to get me out of crippling debt. Really didn't think it was possible. Spoke to Ben at United Debt and he assured me that not only was it possible,...
Kiirstin
Kind and caring
Had been searching for a while for a company I could trust to get me out of crippling debt. Really didn't think it was possible. Spoke to Ben at United Debt and he assured me that not only was it possible,...
Dylan
Quick, easy assistance!
I've been working with Ben at United Debt to help me organize and get out of debt for once - I've been dealing with debt for ages and Ben showed me some simple ways to begin dealing with things to keep...
Takota Carrie
I need help
I really appreciate
JONICA Amber PIRON
Great!
Renika went above and beyond today to help me. She is wonderful to work with! Thank you again Renika for all of your help today! Happy Holidays to you!
Jayvon
Paying back
They where great listeners
Dm
Customer service is truly helpful
Renika was so helpful. My account was paid off but I kept receiving notifications. She cleared up the situation.
Jose Rosa
Great Customer Service
Renika did a wonderful job handling my questions and transactions. She is very patient on the phone and took care of my needs accordingly.
Russ
Very helpful
Renika did a great job in answering all of my questions in a timely manner. She was polite and friendly. Keep her on the payroll.
Anthony Desoto
What's Important to me is United Settlement Costumer service !
United Settlement Costumer service is Amazing Everyone is Professional . I am so happy choosing them with my card Debt. thank you all for helping me out .
Ri cky
That this company has integrity!
A responsive company that keeps it clients up to date and fully informed. I like the fact that I can send them a text and be guaranteed an answer within 24 hrs.
Jerry Bolandis
Professional and focused on facts and truth not hype. Excellent. We want to know facts.
Great work very professional and great updates. Communication is excellent.
janice head
trust them
Excellent. Also each time i call there they treat me with respect even though they are probably thinking jerk . You sure have made mess of your life. but they have been taught to smile smile smile. this...
Scott W O'Neill
Thanks for all your help and negotiations.
Thanks for the update! I have faith in you guys and will continue my payments. Thanks for all your help and negotiations.
Cassandra Robinson
That A Settlement Was Entered.
I Absolutely Love You All At United Settlements. You All Have Saved My Credit Solutions. I Would Refer Everyone To You Services.
Diana Cardona
Tough Financial Hard Times During Covid-19
I signed up with United Debt Settlement because of large credit card debts, which had taken a financial toll on my credit. UDS has an outstanding reputation assisting clients like me achieve financial recovery...
Mildred Yvonne Sherron
The results of the settlement attempts.
So far, I have found United Settlement more than satisfactory. Very conscientious and very efficient in providing a service in debt settlement. Thank you and all the members of your team who are assisting...
Matthew Fry
No hassle service
Quick fast and no hassle