For those individuals with weaker credit, it can be challenging to find a loan with a reasonable interest rate at suitable terms. Nonetheless, there are a number of reputable lenders who are willing to provide loans to people with credit scores hovering in the low 600s and below.
Regardless of the type of loan – whether it be a personal installment loan (secured or unsecured), home mortgage, auto loan, or less savory options such as payday or auto title loans (these two are not recommended), there are several criteria to consider before deciding upon which lenders to approach.
Let's discuss these criteria before exploring several lenders worth considering for bad credit loans.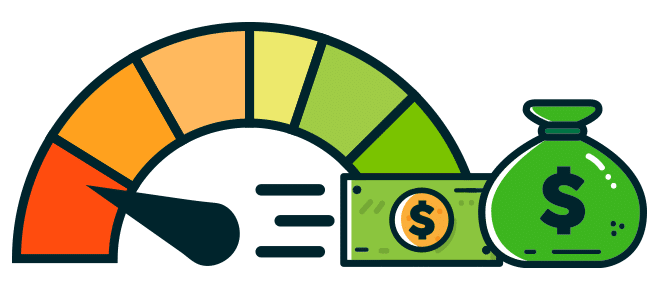 How to Evaluate Bad Credit Loans
Criteria to consider when applying for a loan with bad credit obviously start with interest rate, and the cold reality is that low interest rates will not be made available to borrowers with weak credit. However, this does not mean that signing on for an exorbitantly high APR is a must. To the contrary, the best lenders will offer interest rates that are competitive and in alignment with your credit score. In a similar manner, though many lenders will cap bad credit loan amounts in the $1,000-$2,500 range, the best lenders will provide larger sized loans.
Then there is the matter of fees – loan origination, administrative, pre-payment (when you seek to pay in full prior to maturity), late payment, and so on. The best lenders keep fees to a minimum, though they are not uncommon to encounter.
Look for flexible loan duration's (rather than a fixed term such as three or five years) that allow for a longer duration and lower monthly payment, or pre-payment that will result in significant interest expense savings over the life of the loan.
Finally, make sure the specifics of any loan are very clear on the lender's website – interest rate, terms, monthly payment and fees – there should be no ambiguities whatsoever.
Bad Credit Personal Loans
Bad Credit Loans is a site that connects borrowers with weaker credit to a network of willing lenders for loan amounts of up to $5,000, duration's ranging from three months to three years, and APRs ranging from 5.99% to 35.99%.
Avant offers loan amounts of up to $35,000, duration's ranging from 24 to 60 months, and APRs ranging from 9.95% to 35.99%, with rapid approval as soon as the next business day – though it does charge a 1.5% to 4.75% administrative fee on the loan.
With no minimum credit score or income requirement, OneMain Financial offers bad credit loans of up to $10,000, durations ranging from 24 to 60 months, and APRs ranging from 16.05% to 35.99%.
Bad Credit Mortgages
It is possible to get a mortgage with bad credit, though it may be wise to engage the services of a mortgage broker, as options will likely be both limited and expensive. Adjustable-rate mortgages are somewhat easier to qualify for than fixed-rate mortgages, though they do come with the drawback of larger monthly payments after the introductory rate period has elapsed.
A good resource to consider is government backed FHA loans,  which require a down payment as low as 3.5% and are granted to borrowers with credit scores as low as 580.
Bad Credit Auto Loans
The general rule of thumb is that these will have a higher APR and lower loan amount than auto loans granted to individuals with stronger credit. However, that doesn't mean that you should sign on for a high double-digit interest rate or a loan duration greater than sixty months that will generate high interest expense over the life of the loan.
Auto Credit Express  is a reputable, consumer-friendly lender that boasts an A+ rating with the Better Business Bureau. They work with traditional and special-finance lenders who will grant loans to borrowers with weaker credit – even those who have declared bankruptcy.  Also has an A+ rating from the Better Business Bureau and connects borrowers with up to four potential lenders in a matter of minutes.
They do require a minimum gross monthly income of $1,800 and will only grant loans for cars up to eight years old with fewer than 100,000 miles. Capital One Auto Financing offers an extensive network of over 12,000 dealers who accept their financing for cars up to ten years old with fewer than 120,000 miles.
Payday Loans and Auto Title Loans
In a word – AVOID! Payday Loans can quickly lead to a cycle of astronomical finance charges equivalent to an APR in the area of 400%. Payday loans of two week duration are easy to get, but often hard to get rid of once you have one. Payday loan lenders are all too willing to accept interest only payments once the two weeks are up and the principal becomes due, but far too many low-income borrowers get trapped when they can't repay the principal and kick the can down the road for another two weeks of high interest expense.
Stay away. Auto Title Loans aren't much better, as they have short duration's of 15-30 days and have implied APRs exceeding 100%. These are a form of secured loan in which the borrower's vehicle is pledged as collateral, and once again, the lender is all too willing to accept an interest only payment when the borrower isn't ready to repay the principal following the brief loan term.
Auto Title Loans are now illegal in over twenty states, but if they are available where you reside, stay away.
Annette Huggins
That when it seems like nobody can help United will.
This was a great experience for me. I am just starting but Madelene Gallon made me feel like we were friends for years. She tried to make me feel that she would help me and make sure I got the best deal...
Kiirstin
Kind and caring
Had been searching for a while for a company I could trust to get me out of crippling debt. Really didn't think it was possible. Spoke to Ben at United Debt and he assured me that not only was it possible,...
Kiirstin
Kind and caring
Had been searching for a while for a company I could trust to get me out of crippling debt. Really didn't think it was possible. Spoke to Ben at United Debt and he assured me that not only was it possible,...
Dylan
Quick, easy assistance!
I've been working with Ben at United Debt to help me organize and get out of debt for once - I've been dealing with debt for ages and Ben showed me some simple ways to begin dealing with things to keep...
Takota Carrie
I need help
I really appreciate
JONICA Amber PIRON
Great!
Renika went above and beyond today to help me. She is wonderful to work with! Thank you again Renika for all of your help today! Happy Holidays to you!
Jayvon
Paying back
They where great listeners
Dm
Customer service is truly helpful
Renika was so helpful. My account was paid off but I kept receiving notifications. She cleared up the situation.
Jose Rosa
Great Customer Service
Renika did a wonderful job handling my questions and transactions. She is very patient on the phone and took care of my needs accordingly.
Russ
Very helpful
Renika did a great job in answering all of my questions in a timely manner. She was polite and friendly. Keep her on the payroll.
Anthony Desoto
What's Important to me is United Settlement Costumer service !
United Settlement Costumer service is Amazing Everyone is Professional . I am so happy choosing them with my card Debt. thank you all for helping me out .
Ri cky
That this company has integrity!
A responsive company that keeps it clients up to date and fully informed. I like the fact that I can send them a text and be guaranteed an answer within 24 hrs.
Jerry Bolandis
Professional and focused on facts and truth not hype. Excellent. We want to know facts.
Great work very professional and great updates. Communication is excellent.
janice head
trust them
Excellent. Also each time i call there they treat me with respect even though they are probably thinking jerk . You sure have made mess of your life. but they have been taught to smile smile smile. this...
Scott W O'Neill
Thanks for all your help and negotiations.
Thanks for the update! I have faith in you guys and will continue my payments. Thanks for all your help and negotiations.
Cassandra Robinson
That A Settlement Was Entered.
I Absolutely Love You All At United Settlements. You All Have Saved My Credit Solutions. I Would Refer Everyone To You Services.
Mildred Yvonne Sherron
The results of the settlement attempts.
So far, I have found United Settlement more than satisfactory. Very conscientious and very efficient in providing a service in debt settlement. Thank you and all the members of your team who are assisting...
Diana Cardona
Tough Financial Hard Times During Covid-19
I signed up with United Debt Settlement because of large credit card debts, which had taken a financial toll on my credit. UDS has an outstanding reputation assisting clients like me achieve financial recovery...
Matthew Fry
No hassle service
Quick fast and no hassle
Are you in debt? we can help