One in three Americans currently have a debt that's in the hands of a debt collector. Some of these individuals know they owe a debt, while others have likely forgotten about what they owe.
If you get approached or called out by a collector, you may be wondering – how can I tell if the collector's allegations are legitimate? If you know how to write a debt verification letter, then you can verify whether your debt collector's claims are true or not. After all, the last thing you want to do is accept responsibility for a debt that you either don't owe anymore or never owed at all.
Learn everything you need to know about a debt validation letter so you can ensure you're getting treated fairly by collectors right here.
What is a Debt Verification Letter?
At its core, a debt verification letter aims to prove that a past balance is owed by the person receiving the letter. The letter should include key details like how much the person owes, where the debt came from, and how old the debt is.
If you are the person who owes a debt, then you can send a debt verification letter out to the collector. That business must respond with proof of their claims. This holds true whether you owe a personal or business debt.
Why You Might Need a Debt Verification Letter
If you've ever been contacted by a debt collector, then you know exactly how unnerving it can feel. Suddenly, you're getting a call from someone who claims that you owe them a lot of money. Not only do you likely feel that instant sense of panic, but you probably have no idea what debt they're talking about either.
In situations like this, you need a debt verification letter. That's because you need to ensure that you're paying back a debt you actually owe. Debt collectors are notorious for making errors, attributing debt to the wrong party, or demanding payment for debts that don't exist at all! Even worse, a collector may attempt to get you to pay back a debt that's legally expired (which means you don't owe it anymore).
A debt verification letter will help you understand if you're legally obligated to pay back the sum of money or not. It will help you make an informed choice about how to move forward after hearing the debt collector's claims, and it can help you secure your financial future. After all, if that debt is negatively impacting your credit, then verifying it and paying it off can increase your financial credit score.
What to Include in Your Debt Verification Letter
Are you hoping to send out a letter to a collector? If so, then there are certain elements that you should include in your letter. They are:
• Your name
• Your address
• The date you're sending off the letter
• The name and contact details of the debt collection agency
Do you need more detailed information? Learn more below.
Debt Validation Letter Template and Downloadable Link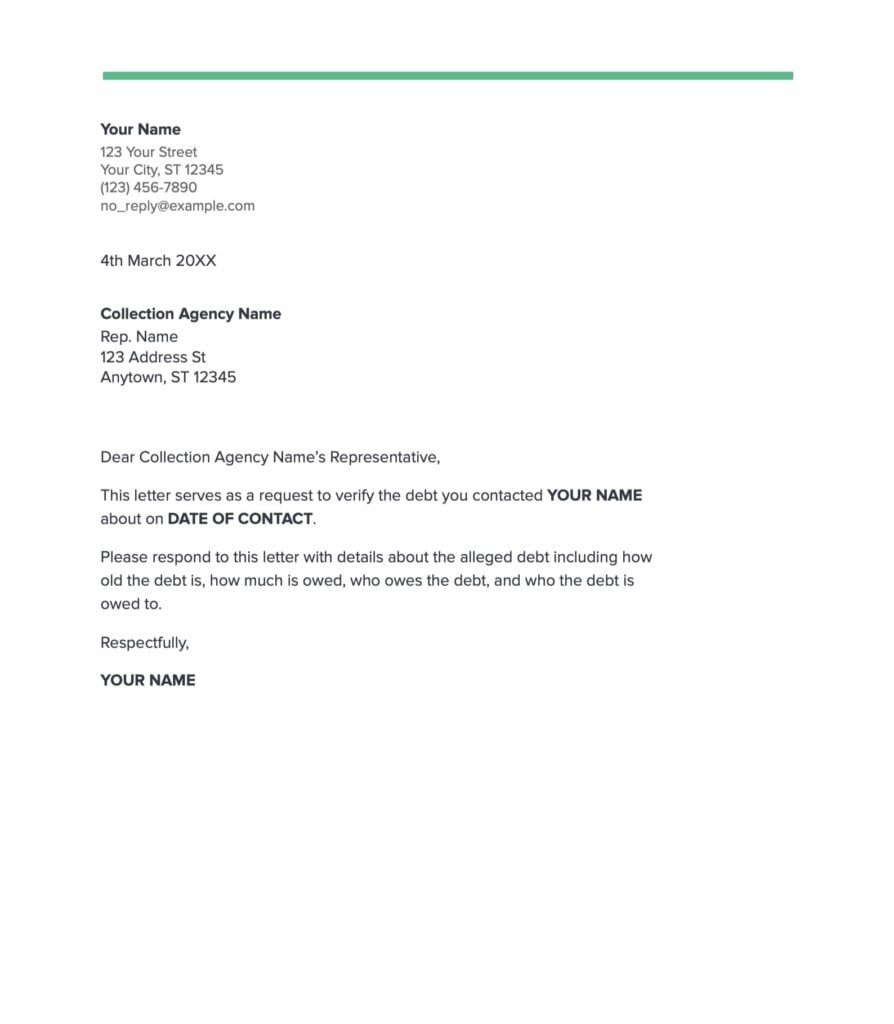 Download Debt Validation Letter Template
Does the letter you sent match up with the debt validation letter sample above?
Did your collector respond with a valid letter including the details requested? If not, then you need to take a closer look at the document. Look for any spelling errors and do a quick online search of the debt collection company that sent it over. If you notice any red flags, then you could be dealing with a scammer.
How to Write a Debt Verification Letter and Read it Like a Pro
Now that you know how to write a debt verification letter, you'll have an easier time determining whether a debt collector's claims against you are valid or not. If you request a copy of a debt verification letter from a collector, then they're legally obligated to comply. If they won't accept your requests for the letter, then you can rest assured that the collector's allegations are either illegitimate or they're breaking the law by failing to provide you with proof.
Are you currently struggling with more debt than you feel like you can handle? Don't make the mistake of thinking you have no hope or few options. Head over to our debt relief page to learn more about whether you qualify for our debt relief program.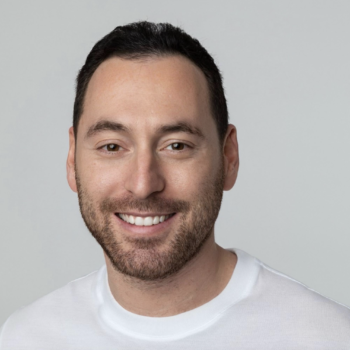 Gabriel Gorelik paves the way for customer service and operations at United Settlement. He is passionate about numbers and holds a strong belief in helping anyone with their debt. Before United Settlement, Gabriel received his BS in Finance & Economics from Brooklyn College. After graduation, Gabriel went on to build his first financial services company where he managed thousands of accounts for business and consumer clients. He understands the importance of client satisfaction, professionalism, and exceeding expectations.