Debt settlement occurs when a debtor successfully negotiates a payoff amount for less than the total balance owed on a debt. This lower negotiated amount is agreed to by the creditor or collection agency and must be fully documented in writing. The settlement is often paid off in one lump sum, although it can also be paid off over time.
Although creditors are under no legal obligation to accept debt settlement offers, negotiating and paying lower amounts to settle debts is far more common than many people realize. For those individuals who wish to pursue debt settlement on their own, without the aid of an experienced debt settlement company, contacting creditors with a carefully crafted debt settlement proposal letter is an absolute must. Fortunately, the debt settlement experts at United Settlement can help you write an effective debt settlement proposal letter.
How To Write a Debt Settlement Proposal Letter
A successful debt settlement negotiation can save you thousands of dollars while relieving the burden of debt and its accompanying process of ongoing monthly repayments. With a lot riding on effective negotiation, you will want to do everything within your power to get things off on the right foot and to generate positive momentum for yourself in the direction of a money-saving and aggravation relieving settlement.
Therefore, when proposing a full and final settlement offer to a creditor, it's important to be thorough in conveying exactly how much you offer to pay, exactly when you offer to have it paid, and the concessions you want your creditor to grant. It is also very important to explain to the creditor the nature of your current circumstances (employment-related, health-related, family-related) and how they financially impact you, your cash flow, your necessary expenses, and your ability to pay the debt in full. Clearly state your intentions to pay a suggested settled amount in a formal manner while including all identifying information so as to make your account easily accessible for your creditor. Include your full name as stated on the account, your full address, account number, and any other identifying reference numbers (including those related to collection attempts) that are associated with your account.
If the creditor ultimately accepts your offer for debt settlement, make certain that the acceptance is made in writing prior to sending the creditor any amount of money. A written acceptance will serve as confirmation in the event that there are any future disputes. It is also important to understand that the nature of a negotiated debt settlement implies that you will have paid less than the full amount of the debt, and that the settled account is likely to be marked on your credit report as "settled," as opposed to "paid in full." However, you can still request that your account be denoted as "paid in full" on your credit report. Accounts marked as "settled" will remain on a credit report for seven years, and often have a detrimental impact on a credit score and profile.
Sample Debt Settlement Proposal Letter
Your debt settlement proposal letter should be formatted as a formal business letter, with your name and complete mailing address in the top left corner of the page, followed by a blank line, your account number, another blank line, and the date listed beneath it.
After another blank line comes the full name and address of the creditor organization. After another blank line, you can begin the actual text of the debt settlement proposal letter.
Please see below a sample Debt Settlement Proposal Letter.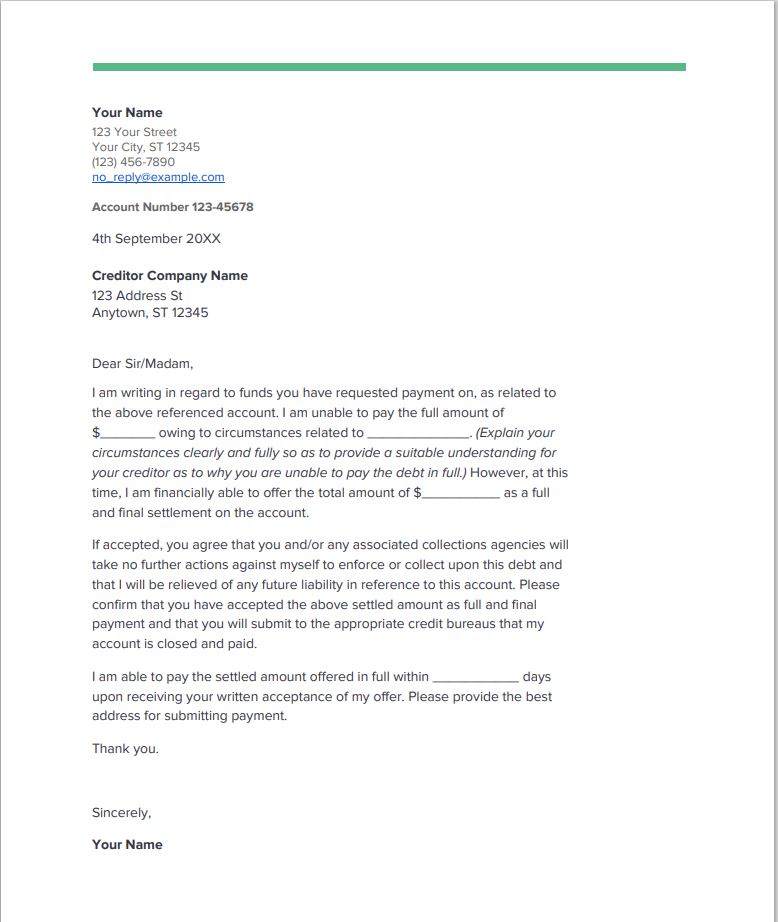 About the Author: Steven Brachman
Steven Brachman is the lead content provider for UnitedSettlement.com. A graduate of the University of Michigan with a B.A. in Economics, Steven spent several years as a registered representative in the securities industry before moving on to equity research and trading. He is also an experienced test-prep professional and admissions consultant to aspiring graduate business school students. In his spare time, Steven enjoys writing, reading, travel, music and fantasy sports.