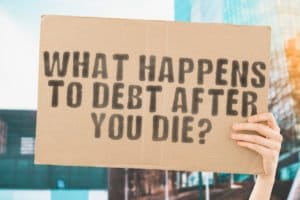 Living with debt is hard enough, but what happens to it after you pass away? Will you have to deal with debt that's not yours if a loved one passes away? What happens to your parent's debt when they die?
It's difficult to think about death, but understanding what happens to debt when someone passes away is important to protect you and your loved ones from the additional burden of debt. Keep reading to find out what happens to debt when you die.
Does Debt Go Away When You Die?
Most debts don't suddenly disappear when you pass away. With a few exceptions, your debt will still need to be paid off — plus interest — if you die. Debts are most often paid using money from your estate. Your estate is the total of all of your possessions and assets.
However, different types of debt and whether the debt has another owner can change how the debt needs to be repaid.
Who Pays Your Debt When You Die?
Although many debts are paid by your estate when you pass away, that's not always the case. For a debt to fall to your estate, you must be the only person to own the debt. Situations where someone else may be liable for your debt when you die include:
You Live in a Community Property State:

Some states require your spouse to cover any debts you leave unpaid when you pass away. These states include Arizona, California, Idaho, Louisiana, Nevada, New Mexico, Texas, Washington, and Wisconsin.

You Have a Joint Account Holder:

If you and another person are owners of an account that owes money, your joint owner will have to take responsibility for the debt if you die.

Your Loan Has a Co-Singer:

A co-signer is someone who agrees to pay back a loan if you cannot. This includes if you pass away before paying off the debt. Your loan co-signer will take over ownership of the loan and be required to continue making payments.
Does the Type of Debt Affect Who Pays for it After You Die?
In addition to situations where another person may be responsible for your debt due to the ownership of a loan or account, the type of debt you have can change what happens to it when you pass away.
Both unsecured and secured debt can be paid by your estate. If your estate doesn't have enough money to cover the full amount of the debts, secured assets can be sold to pay back their loans. For example, your estate can't cover the cost of your car loan. The lender repossesses the vehicle and sells it to recoup the debt.
Unsecured debt such as credit cards or medical debt, however, doesn't have assets to be sold to cover the remaining balances. In most cases when an estate doesn't have the money to pay back the balance, the debt goes unpaid and the creditor writes off the loss.
What Happens to Credit Card Debt When You Die?
As long as you are the only account holder on the credit card, your estate is most likely responsible for paying off any remaining balances. In the event your estate doesn't have the funds to do so, the credit card company will be out of luck collecting the debt.
The exception is if you have a joint account holder. This is a person who opened the account with you and is considered a joint owner of the account. Joint account holders aren't the same as authorized users. If you named an authorized user on your account, they will not be responsible for repaying your credit card debt.
What Happens to Student Loan Debt When You Die?
Student loan debt works a little differently than other types of unsecured debt. Federal student loans are forgiven if the primary borrower passes away. In most cases, the federal government will also waive your co-signer's responsibility to repay a federal student loan if you die.
Private student loans, however, are not usually forgiven upon your death. That means any co-signers will be responsible for making continued payments on your debt. If you don't have a co-signer on your private student loans, the remaining balance will be paid by your estate. In community property states, such as California and Texas, your spouse must repay the debt, even if they are not a co-signer on the loan.
What Happens to Medical Debt When You Die?
The rules for repaying medical debt after someone dies vary between states. This makes it complicated to know exactly what happens to your debt when you die. In most cases, medical debt is the first debt to be collected after your passing. Your estate may also be responsible for paying back any money you received from Medicaid after turning 55 and can put a lien on your home to recoup payments.
It's recommended that you consult an attorney to figure out the laws and guidelines for repaying medical debt after someone dies in your state.
Planning For What Happens to Debt When You Die
More than likely, your estate will be responsible for paying back your debts after you pass away. However, any money used to pay off debt is less money that goes to your heirs as an inheritance. If your money is used to pay off debts, your family may struggle to afford funeral costs or other expenses related to your death.
The best thing to do is to make a plan to manage and pay off your debt now before it's an issue for your loved ones. If you're struggling with debt, you may need to seek professional debt relief to help you manage or consolidate your debt. Feel free to give us a call at 888-574-5454.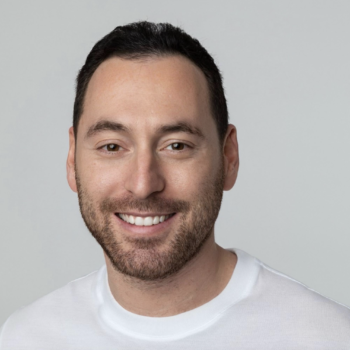 Gabriel Gorelik paves the way for customer service and operations at United Settlement. He is passionate about numbers and holds a strong belief in helping anyone with their debt. Before United Settlement, Gabriel received his BS in Finance & Economics from Brooklyn College. After graduation, Gabriel went on to build his first financial services company where he managed thousands of accounts for business and consumer clients. He understands the importance of client satisfaction, professionalism, and exceeding expectations.