4 Common Misconceptions About Debt Settlement
Debt settlement occurs when a debtor successfully negotiates a payoff amount for less than the total balance owed on a debt. This lower amount is agreed to by the creditor or collection agency and is fully documented in writing.
This lower amount frequently gets paid off in one lump sum, though it may also be paid over a period of time. Although creditors are under no legal obligation to accept debt settlement offers, negotiating and paying lower amounts to settle debts is far more common than many people realize.
There are, however, a number of misconceptions related to debt settlement and the debt settlement process, and this article will attempt to address many of them. Let's take a closer look.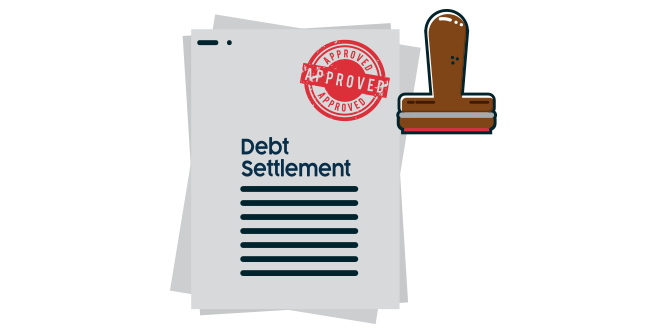 Debt Settlement Won't Harm a Credit Score
Actually, it will. First of all, debt settlement almost always takes place after a debtor has fallen delinquent on one or more unsecured credit card debt balances for three or more months – so the mere act of non-payment that is often part of the debt settlement process – will have already negatively impacted a credit score.
But taking things a bit further, a successful debt settlement will almost always be reported to the three major credit bureaus (Experian, Equifax and TransUnion) and can negatively impact a credit score – not quite as badly as declaring Chapter 7 or Chapter 13 bankruptcy – but close. Understand from the outset that reducing credit card debt through debt settlement will have a significant negative impact on your credit score.
I Must Pay a Debt Settlement Company Upfront
You never have to pay a debt settlement company upfront – and you don't have to use a debt settlement company at all, if you so choose. However, the fact remains that a reputable debt settlement company will possess valuable, long-standing relationships with creditors that include a knowledge of what creditors typically settle for, and will therefore almost always negotiate an attractive debt settlement on accumulated credit card debt more readily than the actual debtor.
It is important to know that the Federal Trade Commission prohibits debt settlement companies from requiring upfront fees prior to a debt settlement negotiation process. Funds earmarked for eventual debt settlement must be held at an insured financial institution and be accessible within seven business days in the event a debtor chooses to withdraw from the debt settlement process.
A reputable debt settlement company will never ask for an upfront payment and will clearly define the fee percentages early on in the relationship that it will assess following a successful debt settlement.
It's Easy to Cut Credit Card Debt in Half
No it isn't. Creditors look for conditions of financial hardship before moving toward debt settlement. This can take the form of a job loss, health emergency, high medical bills, or other instances of hardship within an individual's personal finances. Less reputable firms may advertise or make claims that a credit card balance can be easily cut in half, but more often than not, it's not that simple.
Furthermore, when there is a successful debt settlement, Uncle Sam gets involved. When the amount of cancelled debt is $600 or greater, with few exceptions, the IRS mandates that the amount of debt settlement becomes federally taxable the following year.
Without Debt Settlement, I'll Remain in Debt Forever
Not really. There are plenty of options – and declaring bankruptcy isn't the only other one – by the way. Everyone's debt situation is unique to their own personal finances, and it doesn't hurt to consider talking to a credit counseling firm or non-profit credit counselor to learn about various available options specific to your situation. Creating a proper budget and finding ways to generate more income while downsizing can be part of the conversation with a non-profit credit counselor.
It's important to know that individual states impose statute of limitations on debt, meaning that debt does become legally non-collectible following a specified number of years of inactivity on the account.
Check with your specific state for its debt statute of limitations. Be aware as well that negative information on a credit report related to non-payment will drop off after seven years. So, though non-payment (and debt settlement) will damage a credit score and profile, nothing is forever.
Finally, a reputable credit counseling firm can discuss with you viable alternatives to debt settlement such as debt consolidation or a debt management plan. Contact the experienced debt specialists here at United Settlement to discuss these options for your personal finances, as well as to discuss the process of debt settlement.
Annette Huggins
That when it seems like nobody can help United will.
This was a great experience for me. I am just starting but Madelene Gallon made me feel like we were friends for years. She tried to make me feel that she would help me and make sure I got the best deal...
Kiirstin
Kind and caring
Had been searching for a while for a company I could trust to get me out of crippling debt. Really didn't think it was possible. Spoke to Ben at United Debt and he assured me that not only was it possible,...
Kiirstin
Kind and caring
Had been searching for a while for a company I could trust to get me out of crippling debt. Really didn't think it was possible. Spoke to Ben at United Debt and he assured me that not only was it possible,...
Dylan
Quick, easy assistance!
I've been working with Ben at United Debt to help me organize and get out of debt for once - I've been dealing with debt for ages and Ben showed me some simple ways to begin dealing with things to keep...
Takota Carrie
I need help
I really appreciate
JONICA Amber PIRON
Great!
Renika went above and beyond today to help me. She is wonderful to work with! Thank you again Renika for all of your help today! Happy Holidays to you!
Jayvon
Paying back
They where great listeners
Dm
Customer service is truly helpful
Renika was so helpful. My account was paid off but I kept receiving notifications. She cleared up the situation.
Jose Rosa
Great Customer Service
Renika did a wonderful job handling my questions and transactions. She is very patient on the phone and took care of my needs accordingly.
Russ
Very helpful
Renika did a great job in answering all of my questions in a timely manner. She was polite and friendly. Keep her on the payroll.
Anthony Desoto
What's Important to me is United Settlement Costumer service !
United Settlement Costumer service is Amazing Everyone is Professional . I am so happy choosing them with my card Debt. thank you all for helping me out .
Ri cky
That this company has integrity!
A responsive company that keeps it clients up to date and fully informed. I like the fact that I can send them a text and be guaranteed an answer within 24 hrs.
Jerry Bolandis
Professional and focused on facts and truth not hype. Excellent. We want to know facts.
Great work very professional and great updates. Communication is excellent.
janice head
trust them
Excellent. Also each time i call there they treat me with respect even though they are probably thinking jerk . You sure have made mess of your life. but they have been taught to smile smile smile. this...
Scott W O'Neill
Thanks for all your help and negotiations.
Thanks for the update! I have faith in you guys and will continue my payments. Thanks for all your help and negotiations.
Cassandra Robinson
That A Settlement Was Entered.
I Absolutely Love You All At United Settlements. You All Have Saved My Credit Solutions. I Would Refer Everyone To You Services.
Diana Cardona
Tough Financial Hard Times During Covid-19
I signed up with United Debt Settlement because of large credit card debts, which had taken a financial toll on my credit. UDS has an outstanding reputation assisting clients like me achieve financial recovery...
Mildred Yvonne Sherron
The results of the settlement attempts.
So far, I have found United Settlement more than satisfactory. Very conscientious and very efficient in providing a service in debt settlement. Thank you and all the members of your team who are assisting...
Matthew Fry
No hassle service
Quick fast and no hassle
Are you in debt? we can help