Credit Card Debt Forgiveness
If you're burdened by high levels of credit card debt, you're not alone. In fact, as of mid-2017, the average amount of credit card debt for balance-carrying households approached $11,000, with over 38% of American households feeling the weight of credit card debt. These numbers may be higher than one might expect, though they shouldn't be considered all that shocking when taking into account that the aggregate amount of revolving debt in the United States is now over one trillion dollars.
Now, let's remember that the above figures represent baseline statistics ranging across the nation – as if that weren't bad enough. But what if you find yourself at a level considerably higher than the national average and need to do something about it? There are two primary approaches to pursuing credit card debt forgiveness. As the term implies, credit card debt forgiveness involves paying less than the full interest-generating balances owed to your creditors.
It's important to know that the road to credit card debt forgiveness is not easy, and that creditors are generally not quick to wipe out your debt just because you ask. For the individual burdened by high levels of credit card debt, the two primary approaches of credit card debt forgiveness are debt settlement and bankruptcy.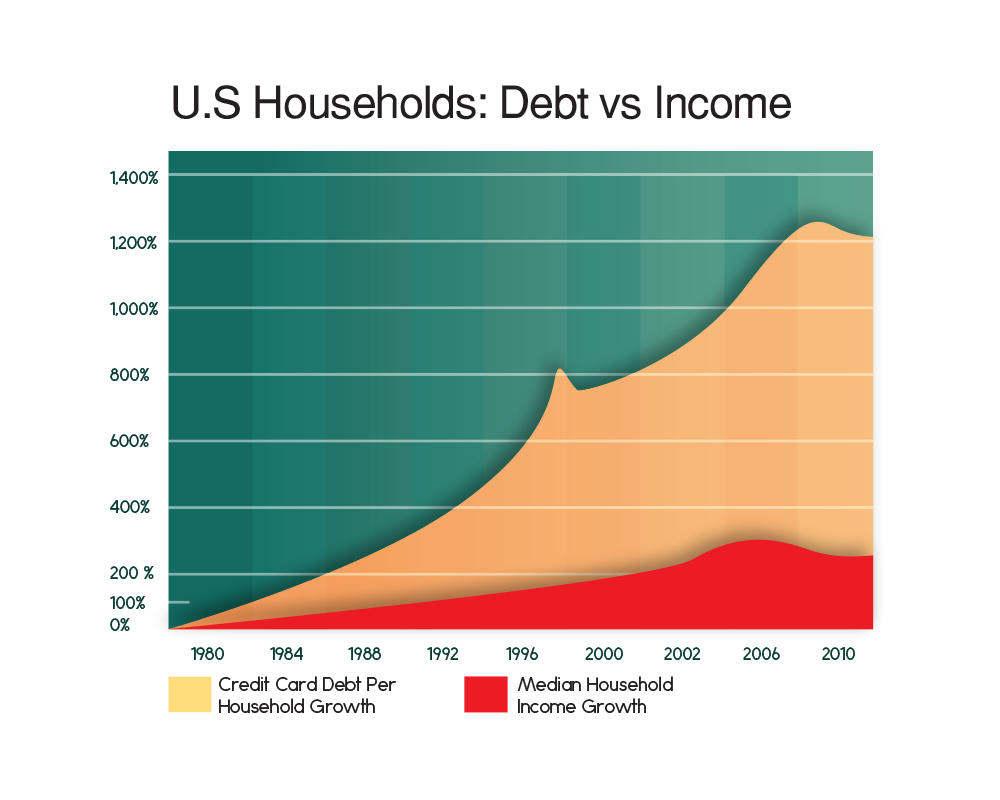 How does Credit Card Debt Forgiveness Work?
Credit Card debt forgiveness in the form of debt settlement takes place when a debtor successfully negotiates a payoff amount for less than the total balance owed. This lower amount is agreed to by the credit card lender and gets fully documented in writing.
Even though it may seem surprising that banks would settle for less than the full amount owed, the statistical certainty that not all borrowers pay back in full is built into a bank's carefully formulated lending model.
From the bank's point of view, if it becomes clear over a period of many months that a debtor's delinquent account may slip further toward charge-off status, thereby effectively making it worthless – it only makes sense that securing a smaller piece of the pie is better than getting back nothing at all.
The debt settlement process is often a long and arduous one that leaves a stain on an individual's credit profile for seven years and results in tax ramifications for any savings over $600.
Meantime, in the case of a Chapter 7 or Chapter 13 bankruptcy filing, credit card debts are eventually discharged following a series of court filings and proceedings, and the black mark of bankruptcy remains on the debtor's credit profile for either ten years (in the case of Chapter 7) or ten years (in the case of Chapter 13) from the date of filing.
Which method of Credit Card Debt Forgiveness should I pursue?
The choice between debt settlement and bankruptcy will depend upon your total debt level, the types of all of your debts that may extend beyond credit card debt, your income level, as well as the eventual tax consequences and credit score impact. For instance, even if your total debt level is high, if most of it is unsecured credit card debt, debt settlement is likely your best option.
However, if you are also carrying onerous secured debt (such as a home mortgage or auto loan), pursuing bankruptcy could be the better option. Regarding discretionary income, if you are able to put aside a certain fixed amount each month for an eventual settlement payment, then you can consider debt settlement as an appropriate approach toward credit card debt forgiveness. However, if it's unrealistic to think in terms of building any savings after accounting for basic necessities each month, then bankruptcy may be the better approach for pursuing credit card debt forgiveness.
Do Your Homework
Regardless of which option you ultimately choose in your pursuit for credit card debt forgiveness, it is important to spend time learning the territory involved. Negotiating debt settlement directly with creditors or beginning the bankruptcy filing process is not easy, and aside from putting in further study, it could be in your best interests to work with experienced professionals who have existing relationships with creditors and can help tailor a solution to your specific financial situation.
Aside from the two options discussed above, a third possible scenario for lessening your credit card debt burden involves pursuing a debt management plan that reduces your interest rates and blended monthly payments. Contact us here at United Settlement to speak with one of our experienced credit counselors who can help you get on the road to financial wellness.
Based on 376 reviews
Overall 4.4 out of 5 stars
That when it seems like nobody can help United will.
This was a great experience for me. I am just starting but Madelene Gallon made me feel like we were friends for years. She tried to make me feel that she would help me and make sure I got the best deal from United. I hope this...
Kind and caring
Had been searching for a while for a company I could trust to get me out of crippling debt. Really didn't think it was possible. Spoke to Ben at United Debt and he assured me that not only was it possible, but it would be fairly...
Kind and caring
Had been searching for a while for a company I could trust to get me out of crippling debt. Really didn't think it was possible. Spoke to Ben at United Debt and he assured me that not only was it possible, but it would be fairly...
Quick, easy assistance!
I've been working with Ben at United Debt to help me organize and get out of debt for once - I've been dealing with debt for ages and Ben showed me some simple ways to begin dealing with things to keep me from bankruptcy or worse....
I need help
I really appreciate
Great!
Renika went above and beyond today to help me. She is wonderful to work with! Thank you again Renika for all of your help today! Happy Holidays to you!
Paying back
They where great listeners
Customer service is truly helpful
Renika was so helpful. My account was paid off but I kept receiving notifications. She cleared up the situation.
Great Customer Service
Renika did a wonderful job handling my questions and transactions. She is very patient on the phone and took care of my needs accordingly.
Very helpful
Renika did a great job in answering all of my questions in a timely manner. She was polite and friendly. Keep her on the payroll.
What's Important to me is United Settlement Costumer service !
United Settlement Costumer service is Amazing Everyone is Professional . I am so happy choosing them with my card Debt. thank you all for helping me out .
That this company has integrity!
A responsive company that keeps it clients up to date and fully informed. I like the fact that I can send them a text and be guaranteed an answer within 24 hrs.
Professional and focused on facts and truth not hype. Excellent. We want to know facts.
Great work very professional and great updates. Communication is excellent.
trust them
Excellent. Also each time i call there they treat me with respect even though they are probably thinking jerk . You sure have made mess of your life. but they have been taught to smile smile smile. this agency is just awesome....
Thanks for all your help and negotiations.
Thanks for the update! I have faith in you guys and will continue my payments. Thanks for all your help and negotiations.
That A Settlement Was Entered.
I Absolutely Love You All At United Settlements. You All Have Saved My Credit Solutions. I Would Refer Everyone To You Services.
The results of the settlement attempts.
So far, I have found United Settlement more than satisfactory. Very conscientious and very efficient in providing a service in debt settlement. Thank you and all the members of your team who are assisting in bringing me new life. ...
Tough Financial Hard Times During Covid-19
I signed up with United Debt Settlement because of large credit card debts, which had taken a financial toll on my credit. UDS has an outstanding reputation assisting clients like me achieve financial recovery and success. During...
No hassle service
Quick fast and no hassle