Utility Bills Debt
The average American household spends approximately $2,000 per year on energy bills. Like any other component of a household budget, heating, gas and electricity bills should be managed properly to minimize costs. The good news is that it's actually quite easy to do, as implementing just a few minor tweaks can save hundreds of dollars per year.

Minor Changes Lead to Heating Bill Savings
For starters, if it's cold outside, during daytime hours, be sure to keep any blinds and curtains open to allow the warmth of the sun into your living space. Warming your house this way will allow you to keep the thermostat lower until later in the day. At nightfall, be sure to reverse the process. Doing this as a daily practice is an easy way to save on heating bills. It's also easy enough to wear an extra layer or keep blankets handy at home. Merely adding a sweater or sweatshirt, and having soft blankets in the living room while relaxing in front of the TV will keep things cozy at home while lowering your energy bill. You may also be able to program your thermostat lower for those times when your dwelling will be left vacant for multiple hour stretches.
Next, take a look at your hot water heater, and lower the temperature setting toward 125 degrees if the factory setting was significantly higher. Your hot showers will stay hot, particularly if you add a touch of external insulation in the form of pre-cut jackets. Similarly, consider installing window film insulation to help retain the heat in your home. Another viable energy bill saver involves examining ceiling fans for a switch that can reverse blade direction. During the cold months, if you set the switch to turn ceiling fan blades counter-clockwise, the fan will push down warmer air from the ceiling and help circulate heated air throughout the room.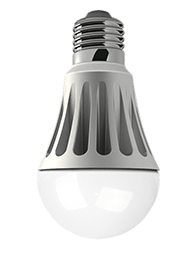 You Can Lower Your Electricity Bill
Air conditioners remain a significant driver of high electricity bills during the summer. If you're using an air conditioner, make certain to change the filters on a monthly basis. Additionally, remove any leaves and soot that may be blocking the flow of air to the unit. Next, take a look at the light bulbs you rely upon. If you're still using incandescent bulbs, replace them with light-emitting diodes (LED). The amount of money that can be saved here is not insignificant, as these newfangled LED bulbs not only last up to one hundred times longer than incandescent bulbs, but also result in energy savings approximating $50 or more over the life of the bulb. This is an easy change to make, and if your house uses ten or more bulbs, the savings will add up quickly.
If You Have Roommates, Pay Attention
There are instances when a previously harmonious shared living situation can lead to a sticky situation involving unpaid utility bills left in an individual's name. In fact, it is not uncommon for an unpaid utility bill to inflict damage upon an otherwise healthy credit score and profile, particularly if the bill has been turned over to a collections agency. Therefore, it is a good idea to get written or e-mail confirmation that any utility bill accounts previously held in your name have been closed when you move out of a shared living situation. Be sure to confirm that no outstanding balance remains thirty days later, as well, as a partially unpaid month can still be owed on an account after it has been closed.
As another precaution, you can access free credit reports with Experian, Equifax and TransUnion through annualcreditreport.com to ensure that no surprising inquiries have been placed by utility companies and collection agencies. If you do find such an inquiry on any of your credit reports, take action to dispute the debt with the collection agency and credit bureau reporting the information. Put your dispute in writing and send it via certified mail, return receipt requested. If at all possible, provide evidence that you were living elsewhere when the debt was incurred – ideally with a printed copy of another utility bill coinciding with the time frame of the outstanding utility bill debt. This can aid in your efforts to have any damage to your credit profile mitigated. Nonetheless, you may still be held liable for the debt if the utility bill was indeed left in your name, so be certain to avoid this situation entirely by ensuring that all utility accounts are closed and fully paid upon exiting any shared living arrangement.
Based on 376 reviews
Overall 4.4 out of 5 stars
That when it seems like nobody can help United will.
This was a great experience for me. I am just starting but Madelene Gallon made me feel like we were friends for years. She tried to make me feel that she would help me and make sure I got the best deal from United. I hope this...
Kind and caring
Had been searching for a while for a company I could trust to get me out of crippling debt. Really didn't think it was possible. Spoke to Ben at United Debt and he assured me that not only was it possible, but it would be fairly...
Kind and caring
Had been searching for a while for a company I could trust to get me out of crippling debt. Really didn't think it was possible. Spoke to Ben at United Debt and he assured me that not only was it possible, but it would be fairly...
Quick, easy assistance!
I've been working with Ben at United Debt to help me organize and get out of debt for once - I've been dealing with debt for ages and Ben showed me some simple ways to begin dealing with things to keep me from bankruptcy or worse....
I need help
I really appreciate
Great!
Renika went above and beyond today to help me. She is wonderful to work with! Thank you again Renika for all of your help today! Happy Holidays to you!
Paying back
They where great listeners
Customer service is truly helpful
Renika was so helpful. My account was paid off but I kept receiving notifications. She cleared up the situation.
Great Customer Service
Renika did a wonderful job handling my questions and transactions. She is very patient on the phone and took care of my needs accordingly.
Very helpful
Renika did a great job in answering all of my questions in a timely manner. She was polite and friendly. Keep her on the payroll.
What's Important to me is United Settlement Costumer service !
United Settlement Costumer service is Amazing Everyone is Professional . I am so happy choosing them with my card Debt. thank you all for helping me out .
That this company has integrity!
A responsive company that keeps it clients up to date and fully informed. I like the fact that I can send them a text and be guaranteed an answer within 24 hrs.
Professional and focused on facts and truth not hype. Excellent. We want to know facts.
Great work very professional and great updates. Communication is excellent.
trust them
Excellent. Also each time i call there they treat me with respect even though they are probably thinking jerk . You sure have made mess of your life. but they have been taught to smile smile smile. this agency is just awesome....
Thanks for all your help and negotiations.
Thanks for the update! I have faith in you guys and will continue my payments. Thanks for all your help and negotiations.
That A Settlement Was Entered.
I Absolutely Love You All At United Settlements. You All Have Saved My Credit Solutions. I Would Refer Everyone To You Services.
Tough Financial Hard Times During Covid-19
I signed up with United Debt Settlement because of large credit card debts, which had taken a financial toll on my credit. UDS has an outstanding reputation assisting clients like me achieve financial recovery and success. During...
The results of the settlement attempts.
So far, I have found United Settlement more than satisfactory. Very conscientious and very efficient in providing a service in debt settlement. Thank you and all the members of your team who are assisting in bringing me new life. ...
No hassle service
Quick fast and no hassle