Unsecured vs. Secured Loans:
What's The Difference?
There are two primary categories into which loans can be divided – unsecured loans and secured loans. In the case of unsecured loans – of which the most common types are credit card debt, student loans and personal loans – the amount borrowed is not backed by collateral that can potentially be seized in the event of non-payment by the debtor. In contrast, secured loans – the most common types being home mortgages and auto loans – are backed by collateral that can be seized (and sold) by the creditor in the event of non-payment by the borrower.
Because secured loans are backed by collateral, they are naturally more appealing to a creditor, who generally will loan larger amounts at lower interest rates and more favorable terms than are offered with an unsecured loan. Additionally, it's important to know that even though a lender can repossess a home or car in the event of non-payment of a secured loan, the debtor may still owe money to the creditor in the event that proceeds raised through the sale of seized collateral are less than the balance remaining on the loan. Let's take a closer look at the broad landscape of unsecured and secured loans.
The Most Common Unsecured Loan - Credit Cards
The most common type of unsecured loan is credit card debt, and it has become a way of life for a significant percentage of the American population. As of September 2017, 38% of American households carried some form of credit card debt, with balance-carrying households averaging a credit card debt level exceeding $16,000.
The relative ease of gaining approval for a credit card, along with the American consumer's appetite for spending has driven aggregate credit card debt to stratospheric levels. Indeed, according to the Federal Reserve, at the end of 2018, total revolving debt in the United States stood just shy of 1.03 trillion dollars.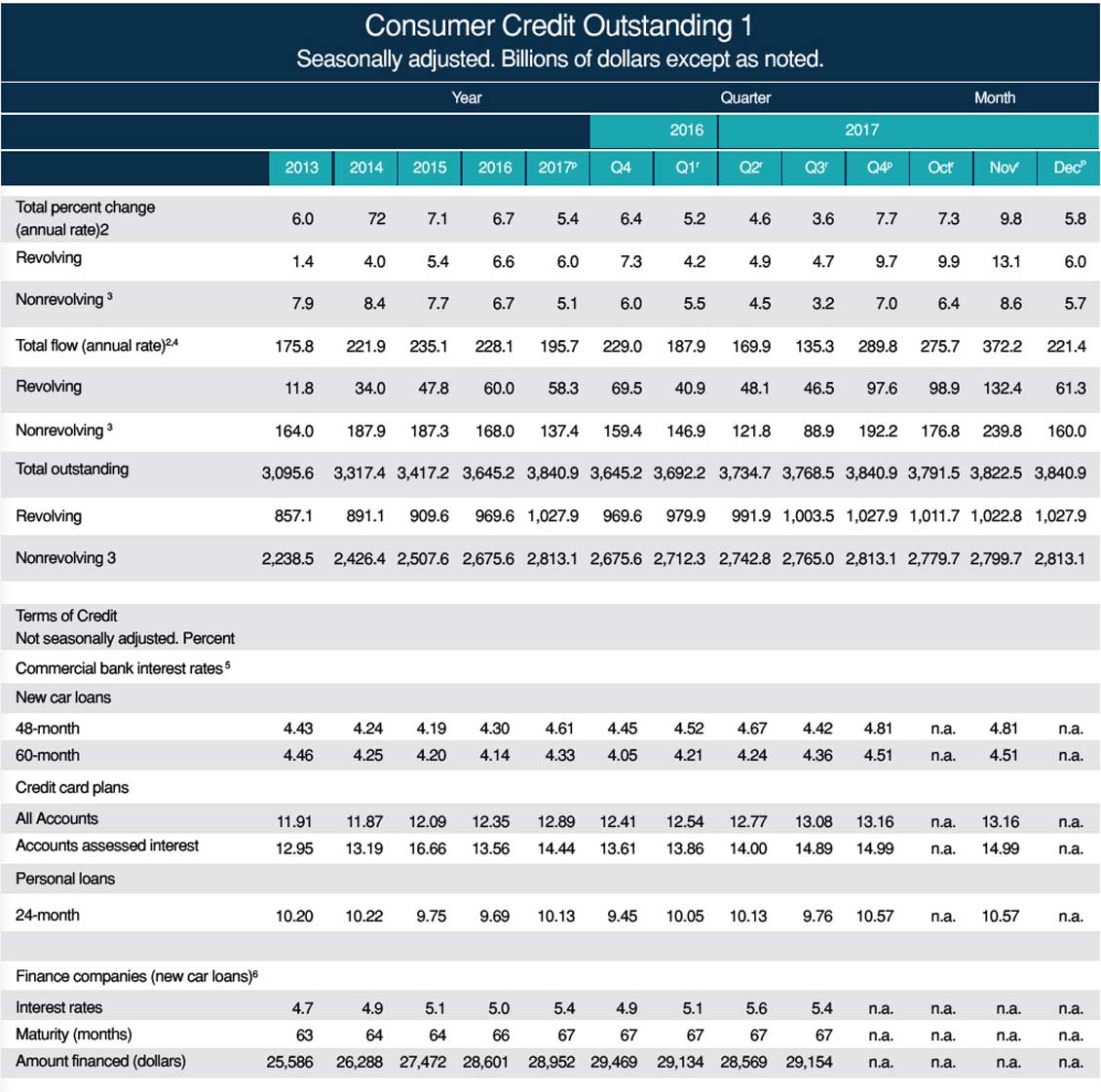 Student Loans
But, guess what? That figure is exceeded by the aggregate value of student loans outstanding, which stood at $1.49 trillion at the end of 2018. Though Federal student loans typically carry lower interest rates and more favorable repayment terms than private student loans, the perception of student loan debt as "good debt" has recently come under greater scrutiny with student loan debt reaching crisis proportions and many students unable to secure high paying jobs following graduation. However, as things currently stand, student loans represent the largest portion of unsecured loans within the United States by dollar amount.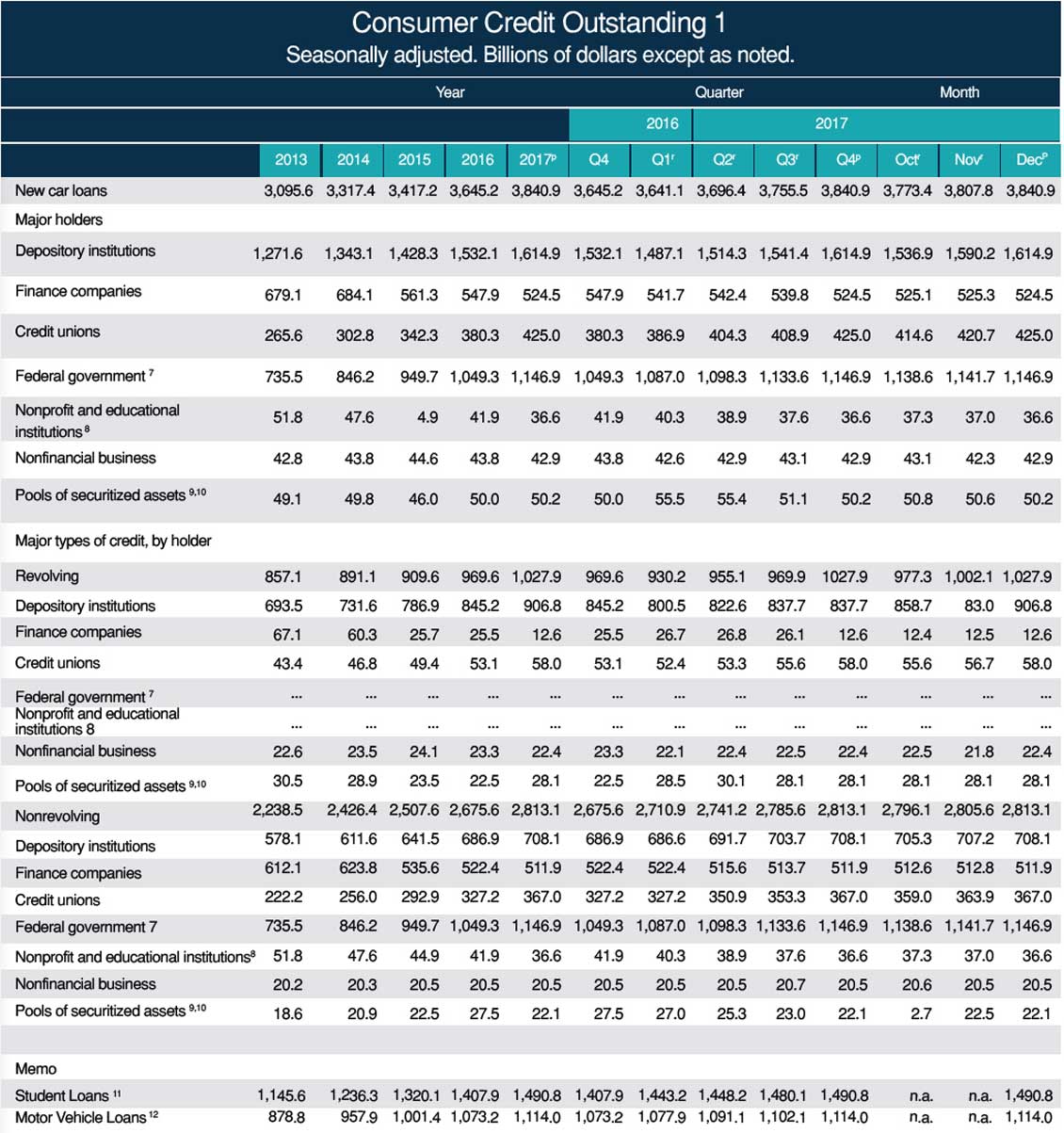 Personal Loans
A third common type of unsecured loan is the personal loan – also known as the consumer loan or installment loan. Personal Loans can be used for any purpose that the borrower wishes, and they include a fixed installment payment schedule over a specified period of time. From an industry standpoint, following a period of double-digit annual percentage growth from mid-2013 through the present, the aggregate value of unsecured personal loan obligations at year-end 2017 stood at $107 billion.
This figure is notably lower than that of aggregate credit card debt, as the personal loan review process conducted by banks, credit unions and online lenders remains difficult for borrowers and often results in high interest rates and unappealing terms. However, if a borrower does possess a strong credit profile, high income level, and relatively low debt level, the flexibility that a personal loan provides can be worth the somewhat arduous application process.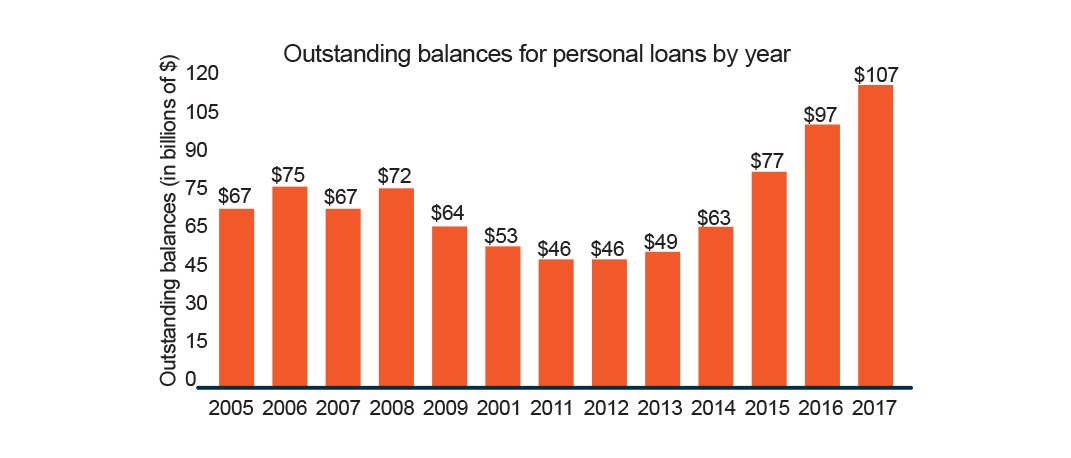 Mortgages - The Big-Ticket Secured Loan
Mortgages are designed to meet the need of what will usually be the biggest-ticket item that an individual may make in a lifetime. Very few people possess the liquid cash reserves required to purchase a home without a need to borrow, and mortgages address that need. Mortgages can last for up to thirty years, and because of their long duration and the fact that they are secured by the underlying physical property, they often come with lower interest rates attached. However – make no mistake – mortgages are a secured loan.
This means that if a borrower becomes delinquent on making ongoing mortgage payments, the true owner of the property title or deed – the bank or finance company – can eventually seize possession of the property. As one might expect, mortgage lending is a huge business, with aggregate U.S. mortgage debt exceeding $14.7 trillion at the end of Q3 2017
Auto Loans
Auto loans are another form of secured debt, in this case tied to the car for which the loan was written. Auto loans typically last in duration from five to seven years and are issued by car dealerships, banks and credit unions.
A borrower's credit score and profile will play a significant part in determining the interest rate charged, and it is the case that dealership loans – though often more convenient than auto loans secured with a bank – often come with higher interest rates attached. From an industry standpoint, auto loans are big business in the U.S., with an aggregate debt level of $1.11 trillion as of December 2017.
Home Equity Loans
Home Equity Loans are secured loans available to those who have accumulated equity in their house – meaning they owe less on a mortgage than the actual value of the dwelling. Just as in the case of a mortgage, the underlying property is staked as collateral, and these secured loans frequently come with lower interest rates and more favorable terms as a result. According to the St. Louis Fed, the aggregate amount of home equity loans outstanding as of January 2018 exceeded 375 billion dollars.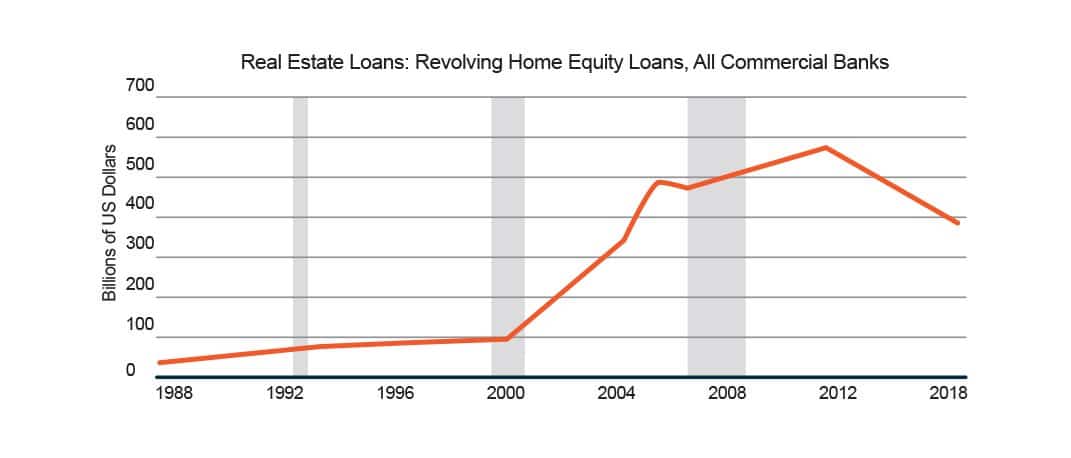 The Big Picture
Remember, because unsecured loans are not backed by any collateral, creditors will make lending decisions primarily on a potential borrower's ability to re-pay as illustrated by the borrower's credit score and profile. Compared to secured loans, borrowers should anticipate higher interest rates at less favorable terms and lower borrowing limits with unsecured loans.
However, in the case of secured loans, it's very important for a debtor to realize that the collateral that backs the loan is vulnerable to seizure and sale in the event of non-payment of the debt. It is this security of knowing that collateral can be seized by the lender that allows creditors to offer lower interest rates and more favorable terms with secured loans.
Based on 376 reviews
Overall 4.4 out of 5 stars
That when it seems like nobody can help United will.
This was a great experience for me. I am just starting but Madelene Gallon made me feel like we were friends for years. She tried to make me feel that she would help me and make sure I got the best deal from United. I hope this...
Kind and caring
Had been searching for a while for a company I could trust to get me out of crippling debt. Really didn't think it was possible. Spoke to Ben at United Debt and he assured me that not only was it possible, but it would be fairly...
Kind and caring
Had been searching for a while for a company I could trust to get me out of crippling debt. Really didn't think it was possible. Spoke to Ben at United Debt and he assured me that not only was it possible, but it would be fairly...
Quick, easy assistance!
I've been working with Ben at United Debt to help me organize and get out of debt for once - I've been dealing with debt for ages and Ben showed me some simple ways to begin dealing with things to keep me from bankruptcy or worse....
I need help
I really appreciate
Great!
Renika went above and beyond today to help me. She is wonderful to work with! Thank you again Renika for all of your help today! Happy Holidays to you!
Paying back
They where great listeners
Customer service is truly helpful
Renika was so helpful. My account was paid off but I kept receiving notifications. She cleared up the situation.
Great Customer Service
Renika did a wonderful job handling my questions and transactions. She is very patient on the phone and took care of my needs accordingly.
Very helpful
Renika did a great job in answering all of my questions in a timely manner. She was polite and friendly. Keep her on the payroll.
What's Important to me is United Settlement Costumer service !
United Settlement Costumer service is Amazing Everyone is Professional . I am so happy choosing them with my card Debt. thank you all for helping me out .
That this company has integrity!
A responsive company that keeps it clients up to date and fully informed. I like the fact that I can send them a text and be guaranteed an answer within 24 hrs.
Professional and focused on facts and truth not hype. Excellent. We want to know facts.
Great work very professional and great updates. Communication is excellent.
trust them
Excellent. Also each time i call there they treat me with respect even though they are probably thinking jerk . You sure have made mess of your life. but they have been taught to smile smile smile. this agency is just awesome....
Thanks for all your help and negotiations.
Thanks for the update! I have faith in you guys and will continue my payments. Thanks for all your help and negotiations.
That A Settlement Was Entered.
I Absolutely Love You All At United Settlements. You All Have Saved My Credit Solutions. I Would Refer Everyone To You Services.
The results of the settlement attempts.
So far, I have found United Settlement more than satisfactory. Very conscientious and very efficient in providing a service in debt settlement. Thank you and all the members of your team who are assisting in bringing me new life. ...
Tough Financial Hard Times During Covid-19
I signed up with United Debt Settlement because of large credit card debts, which had taken a financial toll on my credit. UDS has an outstanding reputation assisting clients like me achieve financial recovery and success. During...
No hassle service
Quick fast and no hassle