78% of Americans live paycheck-to-paycheck, and the unfortunate truth is that with so many hard-working individuals forced to keep a watchful eye on expenditures, contributing toward a savings account becomes all the more difficult. In fact, 45% of Americans have fewer than three months of emergency savings, and only 29% of Americans have six months or more of emergency savings.
When unexpected expenses hit, many cash-strapped individuals are forced to turn to a high-interest, short-term, unsecured form of debt known as a payday loan. Though payday loans can help these individuals when they are in need of cash in a pinch, payday loans come with dangers and risks and should not be entered into lightly.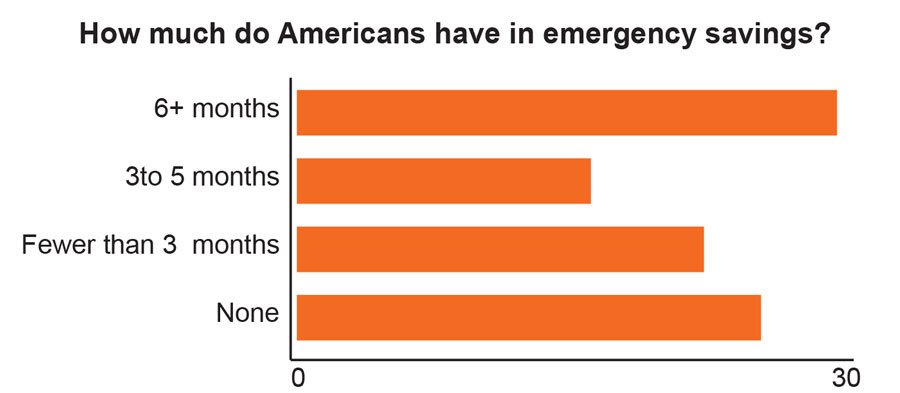 What Are Payday Loans?
Payday Loans are low-denomination, short-term unsecured loans that come with high interest rates and a quick payback. In fact, the "Payday" in the name implies that the loan comes due on the same day that the borrower receives his or her next paycheck. The typical size of a payday loan ranges from $375-$500, with a duration of two to four weeks.
Principal and interest expense are paid back all at once – there are no installments. Interest rates on payday loans are typically around 15% – but this rate is for a very short term loan and is not a true annual percentage rate. For example, a payday loan of $500 will come due with a total required payment of $575 just two-to-four weeks later.
If we were to annualized that interest expense over a full year, APRs on payday loans such as these can easily exceed 200-300% – or more! And since borrowers of payday loans are cash-strapped to begin with, it isn't always easy to make such a payment so quickly after having just borrowed. This is where payday loan borrowers can run into trouble.
The Dangers of Payday Loans
For starters, payday loans are easy to get – they do not require a credit check – only proof of income via a pay-stub, along with evidence of a bank account and a valid form of ID showing proof of at least age 18. The ease of being granted a payday loan, along with the quick relief they can provide, are all part of the appeal. In fact, roughly one in six American households has taken out a payday loan at some point, and it is estimated that 12 million Americans use and expose themselves to the risks of payday loans each year. So, what exactly are the risks of payday loans?
Looking beyond the incredibly high interest rates, payday loans also include automatic repayment. When receiving a payday loan, a borrower hands over a signed post-dated check that grants the lender access to remove money from the debtor's bank account. If a borrower does not repay the loan on time, the lender simply cashes the check. However, when a borrower knows he can't make the full payment on the next payday, he does have the option of renewing the payday loan (by paying off the previous interest payment) or by taking out another payday loan to pay off the first one – with another high-rate interest expense payment attached to the new payday loan. Either way, the borrower has begun a vicious cycle of racing to keep up with automatic repayments on expensive, revolving, high-interest rate payday loan debt.
Do Not Overlook The Risks of Payday Loans
Payday Loans should come with a warning label. The risks associated with revolving renewal fees on payday loans are that serious. For example, a borrower can take out a $500 payday loan with every intention of paying it back in full, two weeks later. However, when the $575 payment proves too steep, he merely opts to pay the $75 interest payment, and buys time for another two weeks. Except the same thing happens again. Two weeks later, the unfortunate borrower is out another $75 and still hasn't made a dent in the original principal.
Payday loan offices are more than happy to keep this scheme going, and as long as the borrower can't come up with a timely payment of $575, he will be forced to pay $75 in interest expense every two weeks. Keep this up for four months and the borrower is out over $600 in interest expense – and still owes the original $500 loan principal! The biggest problem with payday loans is that they can't be paid off gradually over time like other loans. With many payday loan borrowers unable to make the lump sum repayment, they get stuck in the vicious cycle of payday loan renewals – and the cash-strapped borrower pays the price.
Annette Huggins
That when it seems like nobody can help United will.
This was a great experience for me. I am just starting but Madelene Gallon made me feel like we were friends for years. She tried to make me feel that she would help me and make sure I got the best deal...
Kiirstin
Kind and caring
Had been searching for a while for a company I could trust to get me out of crippling debt. Really didn't think it was possible. Spoke to Ben at United Debt and he assured me that not only was it possible,...
Kiirstin
Kind and caring
Had been searching for a while for a company I could trust to get me out of crippling debt. Really didn't think it was possible. Spoke to Ben at United Debt and he assured me that not only was it possible,...
Dylan
Quick, easy assistance!
I've been working with Ben at United Debt to help me organize and get out of debt for once - I've been dealing with debt for ages and Ben showed me some simple ways to begin dealing with things to keep...
Takota Carrie
I need help
I really appreciate
JONICA Amber PIRON
Great!
Renika went above and beyond today to help me. She is wonderful to work with! Thank you again Renika for all of your help today! Happy Holidays to you!
Jayvon
Paying back
They where great listeners
Dm
Customer service is truly helpful
Renika was so helpful. My account was paid off but I kept receiving notifications. She cleared up the situation.
Jose Rosa
Great Customer Service
Renika did a wonderful job handling my questions and transactions. She is very patient on the phone and took care of my needs accordingly.
Russ
Very helpful
Renika did a great job in answering all of my questions in a timely manner. She was polite and friendly. Keep her on the payroll.
Anthony Desoto
What's Important to me is United Settlement Costumer service !
United Settlement Costumer service is Amazing Everyone is Professional . I am so happy choosing them with my card Debt. thank you all for helping me out .
Ri cky
That this company has integrity!
A responsive company that keeps it clients up to date and fully informed. I like the fact that I can send them a text and be guaranteed an answer within 24 hrs.
Jerry Bolandis
Professional and focused on facts and truth not hype. Excellent. We want to know facts.
Great work very professional and great updates. Communication is excellent.
janice head
trust them
Excellent. Also each time i call there they treat me with respect even though they are probably thinking jerk . You sure have made mess of your life. but they have been taught to smile smile smile. this...
Scott W O'Neill
Thanks for all your help and negotiations.
Thanks for the update! I have faith in you guys and will continue my payments. Thanks for all your help and negotiations.
Cassandra Robinson
That A Settlement Was Entered.
I Absolutely Love You All At United Settlements. You All Have Saved My Credit Solutions. I Would Refer Everyone To You Services.
Mildred Yvonne Sherron
The results of the settlement attempts.
So far, I have found United Settlement more than satisfactory. Very conscientious and very efficient in providing a service in debt settlement. Thank you and all the members of your team who are assisting...
Diana Cardona
Tough Financial Hard Times During Covid-19
I signed up with United Debt Settlement because of large credit card debts, which had taken a financial toll on my credit. UDS has an outstanding reputation assisting clients like me achieve financial recovery...
Matthew Fry
No hassle service
Quick fast and no hassle
Payday Loan Alternatives
There are any number of alternatives to payday loans, even for cash-strapped individuals with weaker credit. For starters, it's always important to budget appropriately. Take a close look at necessary expenses such as rent, food, utilities, etc. and get strict with yourself regarding living within your means of monthly income and cash flow. Simple reductions to cable television (consider switching to Netflix and Hulu) and cell phone (prepaid flip-phone service costs under $10 per month) bills can easily save an educated consumer over $100 per month. Reducing expenses related to alcohol, cigarettes and coffee shop visits can possibly double that savings.
If these types of reductions to a budget aren't enough to keep you away from the payday loan office, and you have a good relationship with a local bank or credit union, investigate whether you can receive a personal installment loan at terms far more favorable than any payday loan. You can also look into any 0% or low interest-rate promotional balance transfer credit cards. These are ideal for consolidating existing debt or simply buying a bit more time at far more favorable terms than those of a payday loan. If you're already burdened by a significant amount of debt, consider the possibilities available to you for debt settlement, a debt consolidation loan, or a debt management plan.
All of these options are far superior to getting involved with the risks and dangers associated with payday loans. The experienced credit counselors at United Settlement can discuss these various alternatives that are available to you, given your specific set of financial considerations.