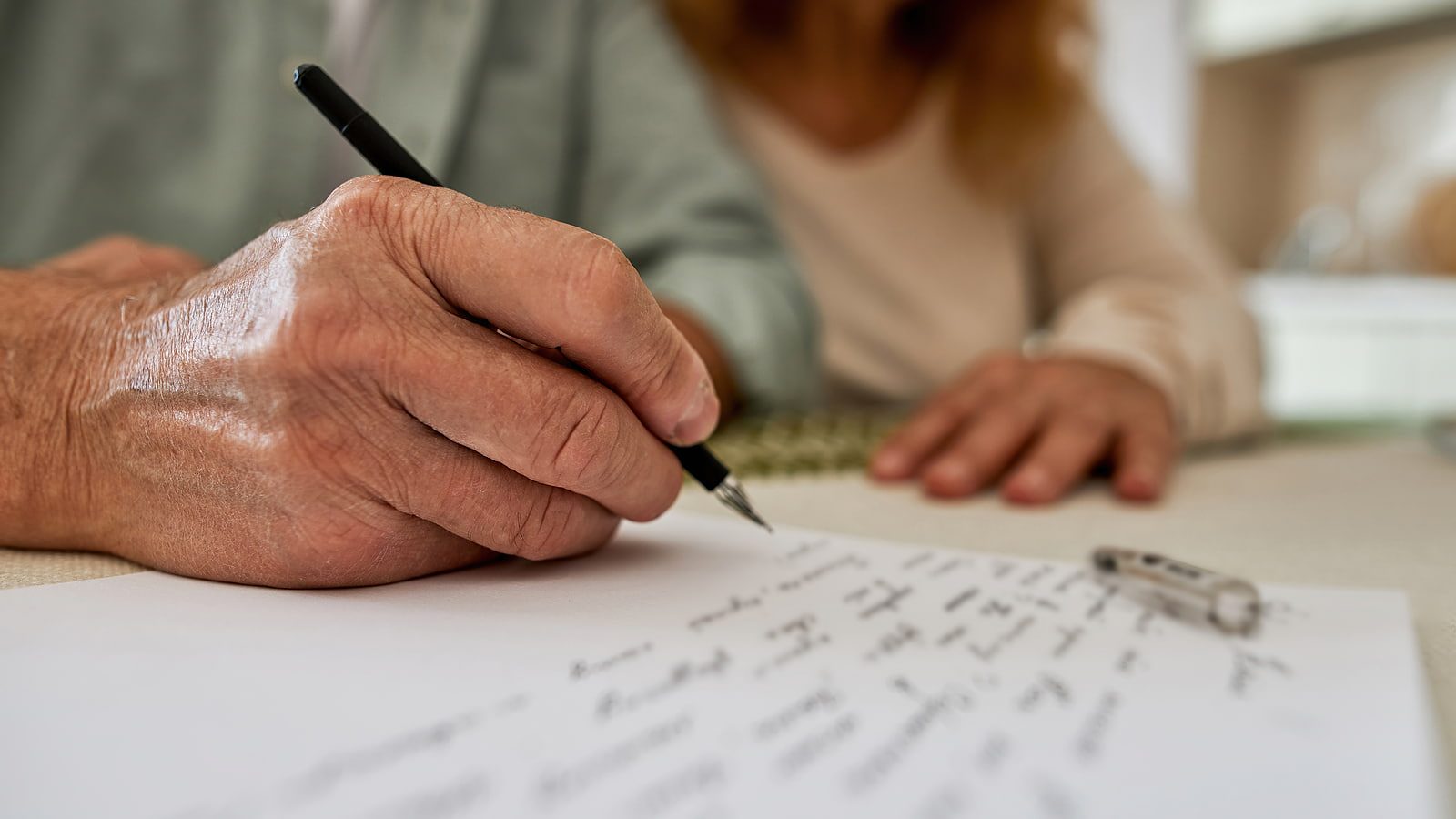 Past behavior is the best predictor of future behavior. However, we all grow and evolve as humans. With that in mind, a past mistake or financial failure shouldn't preclude you from getting a new loan, but it often does.
If you're hoping to overcome a past financial failure and secure a loan, then you'll need to know how to write a letter of explanation. This letter serves a very important purpose, as it could be the difference between getting your loan approved or denied. Drafting this crucial document takes time and consideration, but luckily for you, we've created a letter of explanation template to help. Learn everything you need to know to help get your loan approved below.
Basics of Underwriting
Before we go over what a letter of explanation is exactly and how you should craft yours, you need to understand more about the purpose of it. Underwriting is the process by which a company determines if a potential borrower is a good candidate to receive a loan. Underwriters will ask you to provide specific financial documents and information. Then, they'll review these details to determine your perceived ability to repay the loan.
What is a Letter of Explanation?
The problem with this method is that the information provided to the underwriter might tell an incomplete story. For instance, what if you contracted Covid, lost your job, and then suffered a windfall of financial losses as a result? If you've recovered now and you're getting back on your feet, your financial documents might not fully reflect that. An underwriter might falsely assume that you simply didn't take care of your finances over the past few years.
That's where a letter of explanation comes in.
With a letter of explanation for mortgage purposes, you'll be explaining to the underwriters why there are any negative marks, big debts, or other financial faux pas on your record.
So, what is a letter of explanation? In a nutshell, it's your opportunity to explain any financial documents that might not show you in the best light. To be effective, you need to know how to write letter of explanation and you need to give a convincing reason as to why your financial details aren't reflective of your ability to repay your loan.
Why Do You Need to Provide a Letter of Explanation?
Not every potential borrower needs to provide a letter of explanation to their potential lender. If you believe your financial documents don't fully show you in the best light, though, then you might need to provide one. Otherwise, underwriters might flat out deny you for your loan.
One reason why you might need this type of letter is if you have a huge amount of debt on your record. Underwriters who see massive amounts of debt on your record might believe that their loan will eventually just become one more debt that you never pay off. If you've been struggling to obtain a loan due to your debts, then it might be best to invest in debt settlement services before trying to apply again.
How to Write a Letter of Explanation
Now that you know why you might need a letter, you need to know how to write a letter of explanation.
Knowing this information is only half the battle, and it can be difficult to draft one without a letter of explanation example to copy from. For that reason, we've provided a template example that you can use below.
Letter of Explanation Template
So, what does a letter of explanation look like? Here's a template that you can borrow: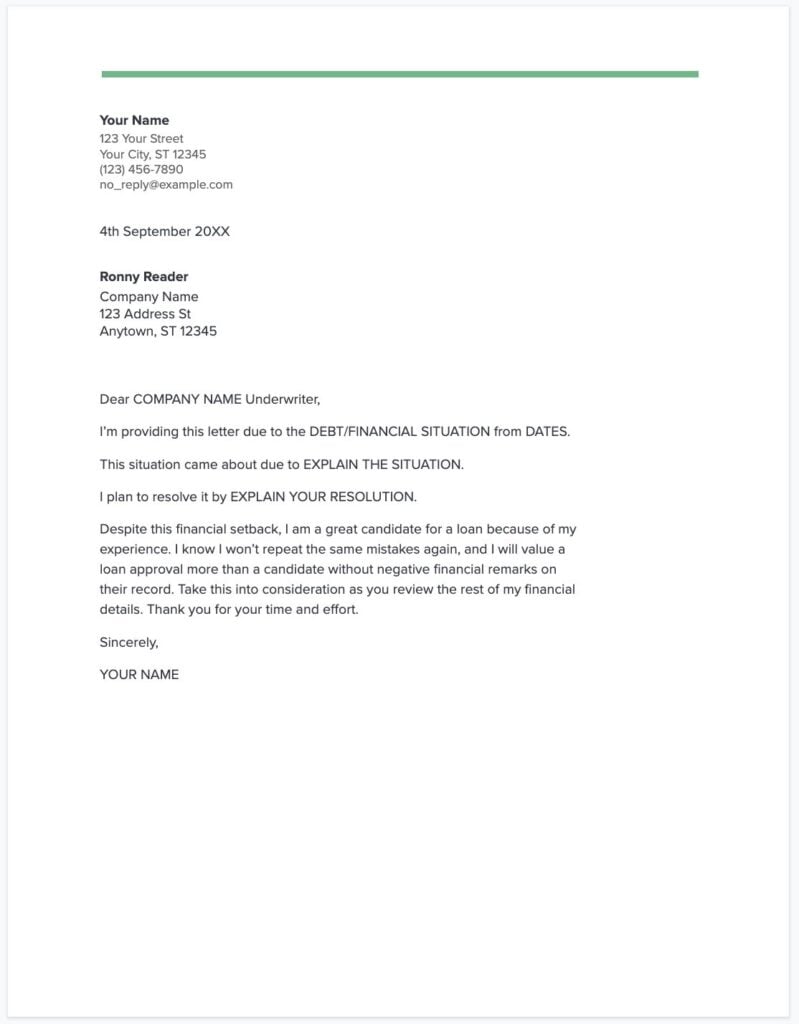 Download the Letter of Explanation Template
If you have more questions, consider checking out these free debt resources.
Do You Need More Help Navigating Your Debt Situation?
Are you hoping to secure a loan despite a rocky financial past? Our letter of explanation template can help you explain to an underwriter how you've changed and why you won't repeat the same mistakes with this new loan.
Even with this letter, a provider might still deny your requests. If that's the case, then you're not completely out of options. There are ways to start settling and reducing your overall debt burden to help you seem like a better loan candidate. Are you ready to get started and learn more about your debt settlement options?
Schedule a consultation with our team of debt experts today to learn more about how we can help.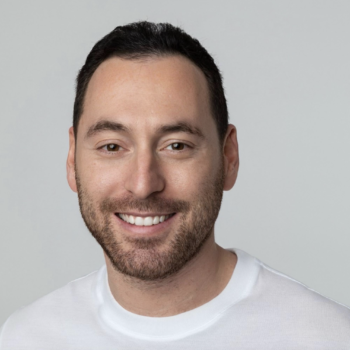 Gabriel Gorelik paves the way for customer service and operations at United Settlement. He is passionate about numbers and holds a strong belief in helping anyone with their debt. Before United Settlement, Gabriel received his BS in Finance & Economics from Brooklyn College. After graduation, Gabriel went on to build his first financial services company where he managed thousands of accounts for business and consumer clients. He understands the importance of client satisfaction, professionalism, and exceeding expectations.