Auto loans are big business in the United States, putting it mildly. At the end of 2020, the aggregate amount of auto debt in the U.S. stood at $1.36 trillion, with auto loans now comprising nearly 10% of all household debt, ranking as the third-highest debt category behind mortgages and student loans. Given the abundance of auto debt, it should come as no surprise that many borrowers encounter financial difficulty.
When unforeseen financial problems emerge as a result of a job loss or other extenuating circumstances, it can become necessary to pursue auto loan debt relief. While auto loan refinancing can often lead to a lower interest rate and lower monthly payment on a pre-existing car loan, auto loan debt settlement is another form of auto loan debt relief that can often make sense. Writing a settlement letter for a car loan is an important and time sensitive process. Learn more about how to write one.
Settlement Letter for Car Loan
Debt settlement takes place when a debtor successfully negotiates a payoff amount for less than the total balance owed. The lower amount is agreed to by the creditor or collection agency and is fully documented in writing. Even though debt settlement is often associated with unsecured debt, such as credit card debt, when an auto loan debtor has fallen delinquent and the account lands in the hands of a collections agency, auto loan debt settlement becomes an option.
Although creditors are under no legal obligation to accept settlement offers, negotiating and paying lower amounts to settle debts is far more common than many people realize. In fact, collection agencies are more likely to settle when an auto loan debtor has demonstrated an inability to pay and the account gets closer to charge-off status – when a creditor or collection agency becomes unlikely to ever recover anything significant from the account again. For those individuals who wish to pursue car loan debt settlement on their own, without the aid of an experienced debt settlement company, contacting collection agencies with a carefully crafted debt settlement proposal letter is an absolute must.
When communicating with collection agencies, it's important to always do so in writing. In an auto loan debt settlement process, it is often the collection agency that initiates contact with a written settlement offer – especially when an account has been in collections for an extended period of time and proven difficult to collect. But that doesn't mean that a debtor shouldn't initiate the process either.
In fact, a well-crafted car loan settlement letter can get the ball rolling toward a solution for an auto debt problem. So, what is the best way to write a good car loan settlement letter? For starters, the letter should have a formal, respectful and positive tone. It should also include all key information that the creditor or collection agency needs to know – including the date, amount, original creditor, and original debtor on the loan. Clearly state your offer while using appropriate language and formatting, and focus on the positive – in other words, emphasize what you are capable of paying back, rather than what you cannot afford.
It is important to be thorough in conveying exactly how much you offer to pay, exactly when you offer to have it paid, and the concessions you would like the collection agency to grant. It is also very important to explain your current circumstances (employment-related, health-related, family-related) and how they financially impact you, your cash flow, your necessary expenses, and your ability to pay the debt in full.
Clearly state your intentions to pay a suggested settled amount in a formal manner while including all identifying information so as to make your account easily accessible for the collection agency. Include your full name as stated on the account, your full address, account number, and any other identifying reference numbers (including those related to collection attempts) that are associated with your account.
Car Loan Settlement Letter
If the collection agency ultimately accepts your offer for car loan settlement, make certain that the acceptance is made in writing prior to sending the creditor any money. A written acceptance will serve as confirmation in the event that there are any future disputes.
It is also important to understand that the nature of a negotiated settlement implies that you will have paid less than the full amount of the debt and that the settled account is likely to be marked on your credit report as "settled," as opposed to "paid in full." However, you can still request that your account be denoted as "paid in full" on your credit report. Accounts marked as "settled" will remain on a credit report for seven years, and often have a detrimental impact on a credit score and profile.
Your car loan settlement letter should be formatted as a formal business letter, with your name and complete mailing address in the top left corner of the page, followed by a blank line, your account number, another blank line, and the date listed beneath it. After another blank line comes the full name and address of the collection agency. After another blank line, you can begin the actual text of the car loan debt settlement proposal letter.
Please see the attached pdf for the sample Car Loan Settlement Letter.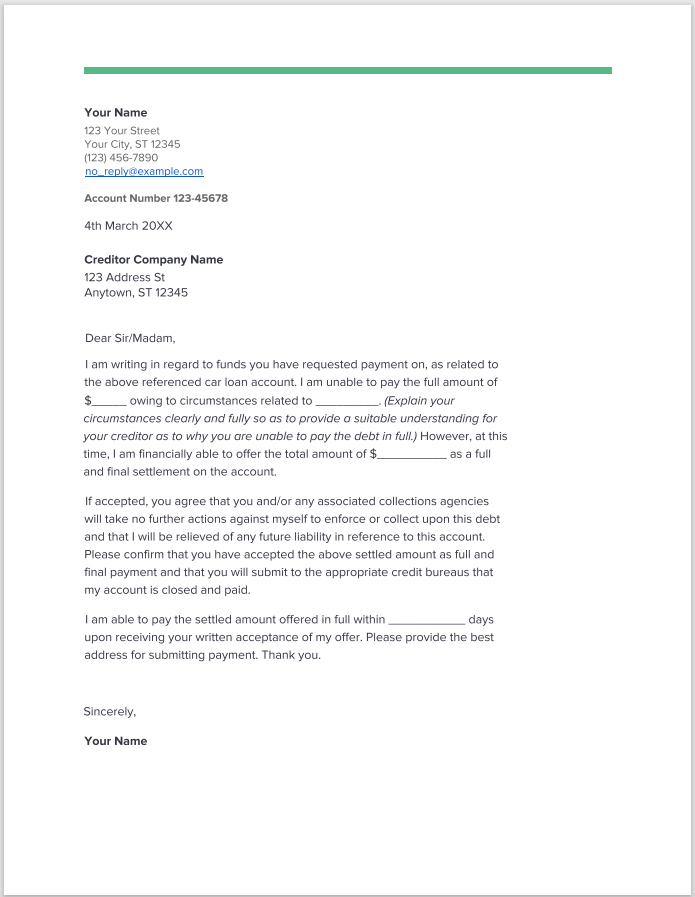 To learn more about debt settlement or to schedule a free consultation, please contact us online or call us today at  888-574-5454.
About the Author: Steven Brachman
Steven Brachman is the lead content provider for UnitedSettlement.com. A graduate of the University of Michigan with a B.A. in Economics, Steven spent several years as a registered representative in the securities industry before moving on to equity research and trading. He is also an experienced test-prep professional and admissions consultant to aspiring graduate business school students. In his spare time, Steven enjoys writing, reading, travel, music and fantasy sports.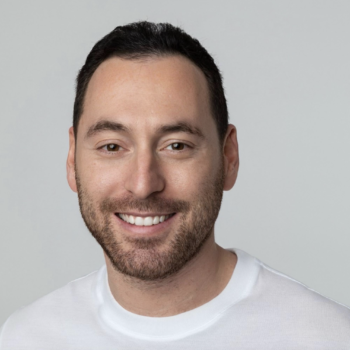 Gabriel Gorelik paves the way for customer service and operations at United Settlement. He is passionate about numbers and holds a strong belief in helping anyone with their debt. Before United Settlement, Gabriel received his BS in Finance & Economics from Brooklyn College. After graduation, Gabriel went on to build his first financial services company where he managed thousands of accounts for business and consumer clients. He understands the importance of client satisfaction, professionalism, and exceeding expectations.