South Carolina Debt Settlement
South Carolina, with a population slightly exceeding five million residents, ranks 23rd in the United States, and covers an area of 32,020 square miles, placing it 40th in terms of geographic size. The South Carolina economy, largely driven by the service, agriculture, transportation and tourism sectors, generated a gross state product of slightly under $210 billion in 2016, ranking 26th nationally. Owing to its significant reliance on the service sector, South Carolina's median household income of $49,501 checks in at 16% lower than the national median household income level of $57,617.
In fact, a recent study from early 2017 indicates that approximately 73% of American consumers actually die in debt! (Source) If you've got a debt problem, don't take it with you to the grave. There is no better time than the present to start acting upon your debt problem. With proper planning, guidance and dedication, you can find your way out of debt.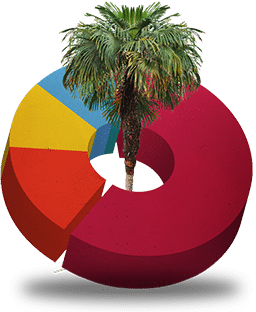 South Carolina Economic and Debt Statistics
According to the St. Louis Fed, the South Carolina unemployment rate stood at 4.3% as of January 2018, only slightly higher than the national unemployment rate of 4.1%. This is noteworthy, as unemployment within South Carolina has been enjoying a significant long-term downtrend from a peak of 11.7% in January 2010. This multi-year improvement has been driven by steady job creation within the hospitality, construction and transportation industries, and has been aided by Boeing's 2011 opening of an aircraft manufacturing facility in Charleston.
Many South Carolina residents are not particularly active credit card users, as average credit card debt checks in at $5,406 – 48th in the nation and 5% lower than the national average of $5,700. However, those residents who do use credit cards are using them a bit less responsibly. Compared with the 2017 nationwide average FICO score of 695, the typical South Carolina resident's 2017 FICO score registered substantially lower at 655, ranking the state 45th in the nation. Moreover, 20% of South Carolina residents demonstrated a declining credit situation in 2017, as evidenced by a credit card bill that was 60 days or more overdue.
According to the St. Louis Fed, as of March 2018, the home ownership rate for South Carolina residents checks in at slightly less than 73%, substantially higher than the national average of 64%. Meantime, a recent Experian report shows average mortgage debt level rose slightly year-over-year to $160,016, a 9% increase compared to 2016.
Turning to student loans, data compiled at the end of 2017 indicates that the average level of student loan debt for South Carolina college graduates stood at $17,900 – a level 4.4% greater than the national average of $17,126. In 2017, a full 60% of South Carolina college students graduated with a student loan balance (40% of graduates had zero borrowings), leading to an average level of student loan debt for South Carolina student borrowers of $30,564, ranking South Carolina ninth in a nation suffering from what has become a student loan epidemic.
South Carolina Residents and Debt Settlement
If you are a South Carolina resident and are currently burdened by high levels of unsecured debt – including credit card accounts, private student loans, unpaid medical bills and personal/installment loans – the process of pursuing debt settlement may make sense for you. Debt settlement occurs when a debtor successfully negotiates a payoff amount for less than the total balance owed on a debt.
This lower amount is agreed to by the creditor or collection agency and is fully documented in writing. Ideally, this lower negotiated amount is paid off in one lump sum, but it can be paid off over time. Though creditors are under no legal obligation to accept debt settlement offers, negotiating and paying lower amounts to settle debts is far more common than you may realize.
South Carolina Consumer Debt Laws
Credit Card companies and other creditors are permitted to contact South Carolina residents directly regarding debts, particularly in a situation involving delinquent payments. However, creditors and debt collection agencies are required to comply with the Federal Fair Debt Collection Practices Act (FDCPA), and are therefore prohibited from taking certain actions. Prohibited actions include informing employers about a debt or attempting to collect a fee in excess of any debt owed.
Debt collection agencies are also prohibited from communicating in a manner that simulates a judicial process or gives the appearance of a governmental action. Finally, debt collection agencies are prohibited from contacting debtors or debtor family members at unusual hours or with a frequency that may be reasonably construed under the law as harassment or abuse. Unfortunately, unlike states such as California, Texas, and Illinois, South Carolina does not supplement the FDCPA with its own state-mandated fair debt collection practice act, and therefore leaves its residents somewhat vulnerable to predatory collections practices by original creditors.
Meantime, the GFDCPA requires debt collectors and industrial lenders to comply with additional provisions somewhat broader than those included in the FDCPA that also limit the manner in which collection agencies and industrial lenders are allowed to communicate with debtors. These include threats of physical harm, trespass of property, and holding the debtor up to public ridicule. When these provisions are violated, the GFDCPA provides consumers with the remedy of a single penalty assessed on debt collectors and industrial lenders of twice the amount of interest fees charged.
Are you in debt? we can help
South Carolina Statute of Limitations on Debt Collection
When enough time passes in a situation in which consumer debts have gone unpaid, a debt collector can lose the legal right to sue for non-payment. In the state of South Carolina, the statute of limitations for collecting on all debts is three years. This statute of limitations applies to all debts – written contracts, promissory notes, and open-ended accounts – including credit cards.
The clock on the three-year time period starts ticking from the "date of default," which is typically thirty days after the last payment was actually made. However, it follows that if your unpaid debts remain unpaid and the full three years have yet to elapse, your creditors maintain legal right to sue you for non-payment and are permitted to engage debt collection agencies who can make persistent attempts at collection while remaining within bounds of the FDCPA.
Get Help with Your Debt Settlement Process
Getting out of debt is never easy, and you very well may need help completing the process. If debt settlement is the right avenue to pursue, be honest with yourself. Decide whether you possess the background, wherewithal and fortitude to negotiate directly with creditors yourself – or whether engaging the services of an experienced and reputable debt settlement company will serve your needs best. The goal is to save the most money, time and aggravation while minimizing the damage to your credit profile.
A reputable debt settlement company will provide a realistic estimate and time frame for making offers to your creditors that can ultimately result in settlements that save you significant amounts of money and time. At United Settlement, our experienced credit counselors possess relationships with the major credit card lenders – along with a broad understanding of the debt marketplace – and we can help you navigate the debt settlement waters safely and successfully.
Based on 376 reviews
Overall 4.4 out of 5 stars
That when it seems like nobody can help United will.
This was a great experience for me. I am just starting but Madelene Gallon made me feel like we were friends for years. She tried to make me feel that she would help me and make sure I got the best deal from United. I hope this...
Kind and caring
Had been searching for a while for a company I could trust to get me out of crippling debt. Really didn't think it was possible. Spoke to Ben at United Debt and he assured me that not only was it possible, but it would be fairly...
Kind and caring
Had been searching for a while for a company I could trust to get me out of crippling debt. Really didn't think it was possible. Spoke to Ben at United Debt and he assured me that not only was it possible, but it would be fairly...
Quick, easy assistance!
I've been working with Ben at United Debt to help me organize and get out of debt for once - I've been dealing with debt for ages and Ben showed me some simple ways to begin dealing with things to keep me from bankruptcy or worse....
I need help
I really appreciate
Great!
Renika went above and beyond today to help me. She is wonderful to work with! Thank you again Renika for all of your help today! Happy Holidays to you!
Paying back
They where great listeners
Customer service is truly helpful
Renika was so helpful. My account was paid off but I kept receiving notifications. She cleared up the situation.
Great Customer Service
Renika did a wonderful job handling my questions and transactions. She is very patient on the phone and took care of my needs accordingly.
Very helpful
Renika did a great job in answering all of my questions in a timely manner. She was polite and friendly. Keep her on the payroll.
What's Important to me is United Settlement Costumer service !
United Settlement Costumer service is Amazing Everyone is Professional . I am so happy choosing them with my card Debt. thank you all for helping me out .
That this company has integrity!
A responsive company that keeps it clients up to date and fully informed. I like the fact that I can send them a text and be guaranteed an answer within 24 hrs.
Professional and focused on facts and truth not hype. Excellent. We want to know facts.
Great work very professional and great updates. Communication is excellent.
trust them
Excellent. Also each time i call there they treat me with respect even though they are probably thinking jerk . You sure have made mess of your life. but they have been taught to smile smile smile. this agency is just awesome....
Thanks for all your help and negotiations.
Thanks for the update! I have faith in you guys and will continue my payments. Thanks for all your help and negotiations.
That A Settlement Was Entered.
I Absolutely Love You All At United Settlements. You All Have Saved My Credit Solutions. I Would Refer Everyone To You Services.
The results of the settlement attempts.
So far, I have found United Settlement more than satisfactory. Very conscientious and very efficient in providing a service in debt settlement. Thank you and all the members of your team who are assisting in bringing me new life. ...
Tough Financial Hard Times During Covid-19
I signed up with United Debt Settlement because of large credit card debts, which had taken a financial toll on my credit. UDS has an outstanding reputation assisting clients like me achieve financial recovery and success. During...
No hassle service
Quick fast and no hassle